Cantucci Custard: Budino di Cantucci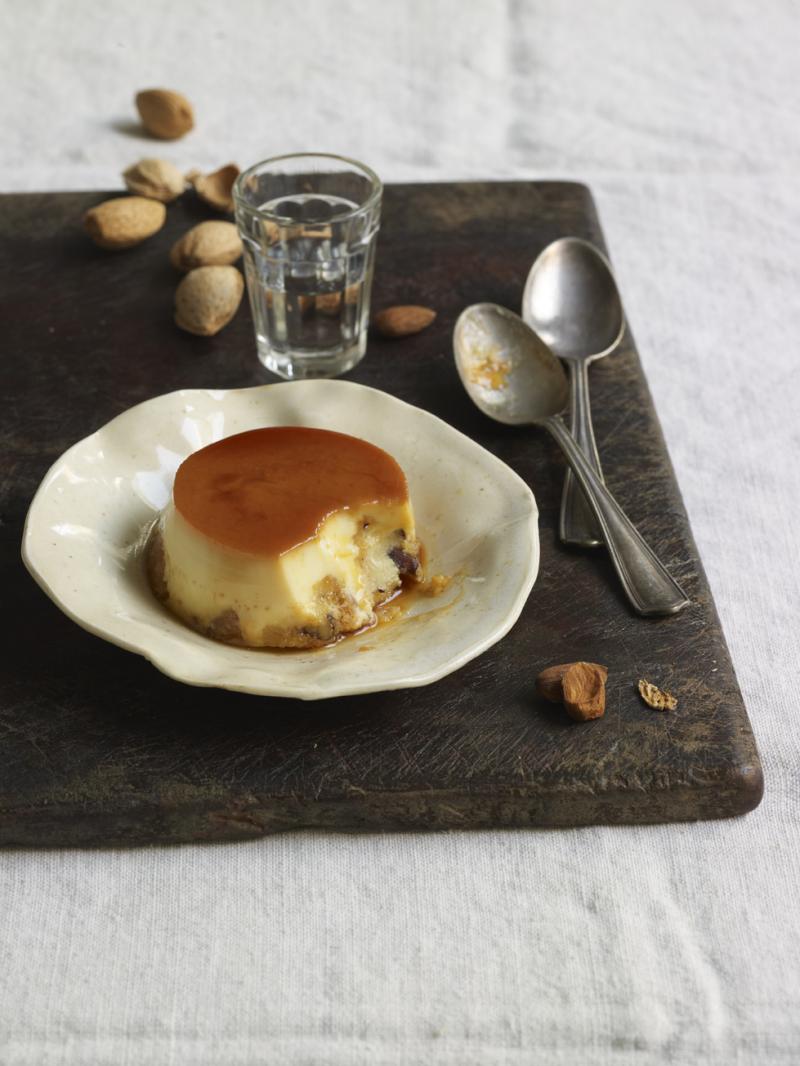 Like crème caramel, but with Italian flare. A fool-proof custard that comes together with a few kitchen staples plus cantucci.  Cantucci, also called "biscotti di Prato," are crunchy almond cookies created centuries ago in the Tuscan town of Prato renowed for their flavorful almonds. 
Cantucci are traditionally dunked in the region's sweet wine, vin santo and this custard too is perfect to pair with a glass of vin santo.
The word "biscotti," a generic Italian term for cookies, comes from the Latin "bis" for twice and "coctum" for cooked, which later became "cotto." The ancient Romans baked the cookies once to cook them, then baked them again on low heat to completely dry them out completely. The ancient Romans in this way created cookies prized by the Roman Legions for their long storage ability. 
This creamy, refreshing custard recipe is courtesy of Ubaldo Corsini, the charming owner of Corsini, a family-run artisan bakery founded in 1921 in Tuscany, especially famed for their fabulous cantucci.
Serves 8
 
Ingredients Sections
Granulated sugar: 1 cup
Eggs: 3
Egg yolks: 2
Vanilla extract: 1 tablespoon
Whole milk: 1 1/4 cups
Heavy cream: 1 1/4 cups
Cantucci cookies, almond biscotti or other crunchy cookie: 4 ounces, roughly chopped into 1/2 inch pieces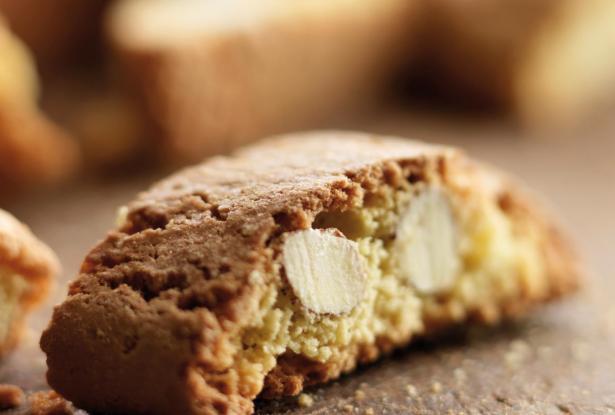 Instructions
Preheat the oven to 350 degrees. Put eight 1/2 cup ramekins into a deep roasting pan, filled with 2-inches of hot water. 
In a small heavy bottomed saucepan put 1/2 cup of the sugar and sprinkle with 1/2 teaspoon of water. Stirring with a wooden spoon over medium heat, until the sugar becomes a golden colored liquid, about 5 minutes. Carefully divide the mixture between the ramekins, so that it covers the bottom. Reserve.
In a bowl, using an electric hand mixer or whisk, beat the eggs, yolks, and vanilla, until light yellow and creamy.  Meanwhile, in a medium saucepan, heat the milk and cream until it just begins to bubble at the edges, then slowly pour the hot milk into the egg mixture and gently whisk to combine.  Stir in the cookie pieces. 
Using a large spoon or ladle, divide the mixture among the reserved ramekins, being sure to divide the cookie pieces evenly. Bake for about 45 minutes, until firm and light golden on top. Allow to cool to room temperature, then refrigerate until ready to serve.  
To serve, cut along the edges with a knife, and turn over onto a serving plate so the caramel is on top. Serve cold. 
Cook's note: You can also make this dessert in a loaf pan. It will just need an extra 5 minutes in the oven.