Caprese Salad with Burrata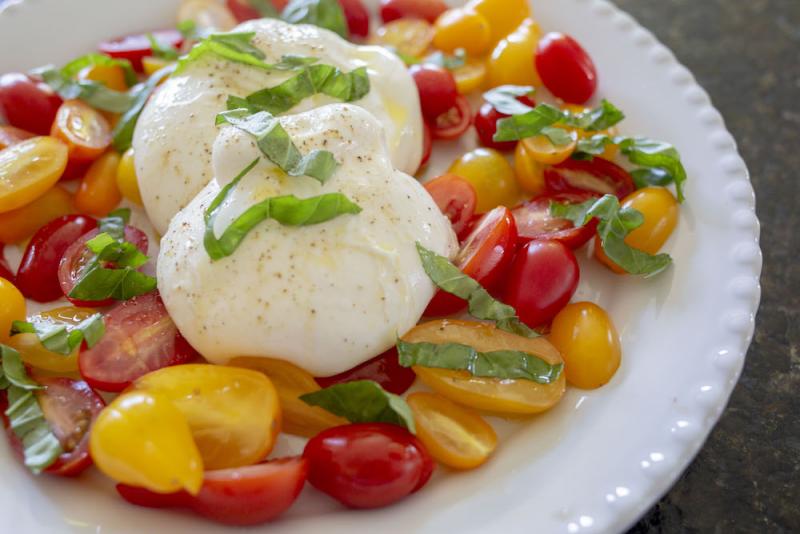 One of the most classic summer dishes in Italy is the insalata di caprese or caprese salad made with sun kissed tomatoes, fresh mozzarella, a swirl of extra virgin olive oil, a handful of basil leaves, a few sprinkles of sea salt and black pepper. It's a simple recipe made with seasonal ingredients that can be prepared in minutes. This variant made with burrata is more rich and decadent. Burratais a fresh cheese from the region of Puglia "a pasta filata", meaning that it is stretched then filled with stracciatella and cream. Serve with grilled bread for a mouthwatering lunch or appetizer.
Serves: 4
Ingredients
cherry tomatoes
8 oz (225 g) mixed cherry tomatoes, halved
burrata
8 oz (225 g), room temperature
fresh basil
5 basil leaves, cut into ribbons
sea salt and black pepper
rustic bread
1 loaf artisan bread, sliced
garlic cloves
1 garlic clove, skin removed
Instructions
Grill or toast the bread and rub each piece with garlic and add a drizzle of extra virgin olive oil.
Layer the tomatoes on a plate, arrange the burrata in the middle and scatter basil ribbons on top. Add a swirl of extra virgin olive, a sprinkle of sea salt and a few cracks of black pepper. Serve with the grilled or toasted bread. Buon appetito!