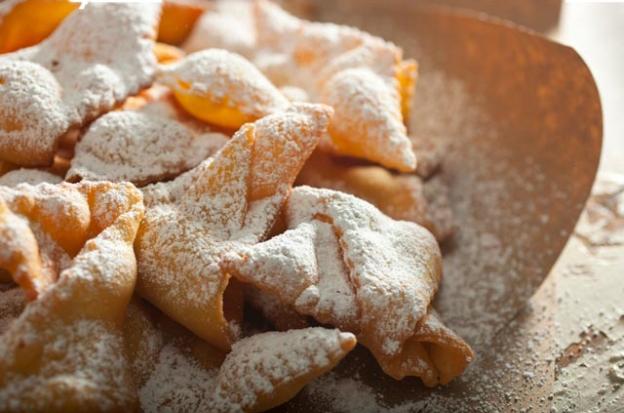 Across Italy, no Carnival celebration is complete without a crispy fried dessert of some kind. But what are these various treats called?
As with nearly everything else in Italy, it depends on the area. Across the south, they're chiacchiere; in Rome, Viterbo and Ancona, you'll hear them called frappe; in Ferrara, Vicenza, and corners of Trentino-Alto Adige and Friuli Venezia Giulia, they're crostoli; over in Liguria and Piedmont, they're bugie; cenci in Tuscany; maraviglias in Sardinia; galani in Venice; sfrappole in Bologna, and on, and on, and on. Just like a good Carnival party.
Regardless of what you call them, they're essential to celebrating Carnival in full-fledged Italian style.
Serves six people
Instructions
Place flour in a bowl and stir in the sugar. Slowly work in the butter and the eggs, followed by the white wine. Knead until the dough becomes soft and pliable. If it feels too sticky to the touch, add a little more flour. Dust a work surface with a little flour. Roll dough out, keeping it reasonably thin, and cut it into a series of triangles with edges roughly 10cm long.
Heat oil; once it's good and hot, fry the chiacchiere in small batches. When they are golden-brown all over, remove from oil and drain well on kitchen paper. Before serving, dredge with icing sugar.
These chiacchiere are equally delicious when accompanied by a crema pasticcera or a thick chocolate sauce like sanguinaccio, a super-rich (and super-delicious) concoction once made with boiled pig's blood. (Now it's made with ingredients found in even the tamest kitchen pantry.)