Chichi Ripieno: Fabulous Focaccia of le Marche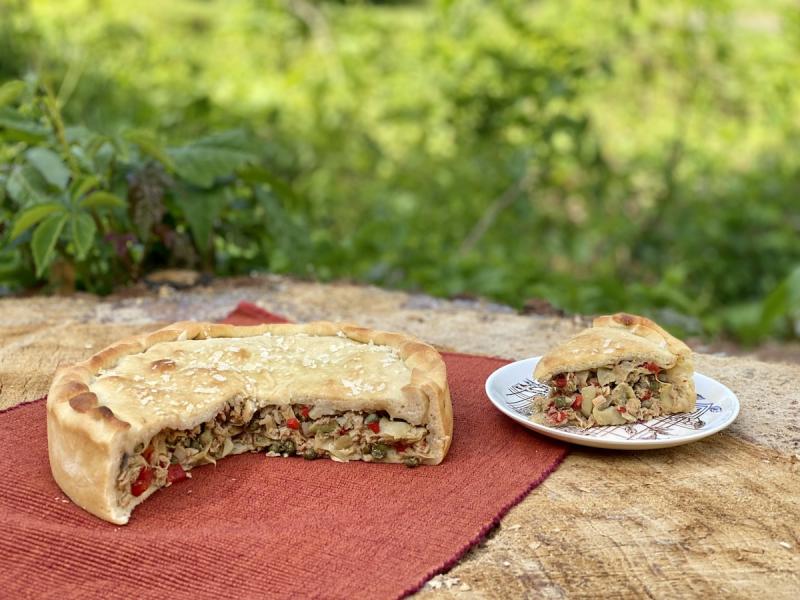 Cooking Time
15 minutes, plus 1 hour for the dough to rest
Chichi ripieno—a rustic crisp and chewy focaccia stuffed with tuna, artichokes, green olives, capers, and red peppers—is served as a first course or appetizer.  It is a specialty of the charming medieval town of Offida in the Ascoli Piceno province of the Le Marche region.  One of the oldest festivals in the region is in honor of this delicacy, held in Offida each year on the first Sunday in August.
Chichi in the local dialect means a piece of dough. In the past, mothers would give their young children a chichi to play with while they were waiting for the "filled dough" to bake. It is a perfect dish to bring on a picnic or to the beach, highly flavorful and easily transportable...plus, it's delicious warm or cold.  The mayonnaise-free, easy to assemble filling has become my go-to tuna salad recipe. 
Offida has a charming Museum of Traditions, highlighting the area's ancient artisan crafts including a huge section on tombolo—a fascinating form of lacework—and the Regional Wine Centre (Enoteca Regionale) housed in the former Monastery of Saint Francis in the historic town center. When you go, be sure to visit the area's wine cellars to try the remarkable local wines like Offida Pecorino DOCG, a white wine often referred to as "red wine dressed as white" because of its full-bodied aroma and intense character. Another must-try wine of the area is Offida Passerina DOCG; its floral aromas and fruity light acidity pair wonderfully with a slice of chichi ripieno!
Serves 8-10
Ingredients
For the filling
Canned tuna packed in olive oil 28 ounces/ 800 grams, not drained
Roasted red bell peppers 1 jar, 7 ounces/ 200 grams, drained and minced or 2 fresh bell peppers, oven-roasted, peeled, and minced
Marinated artichoke quarters 1 jar, 7 ounces/ 200 grams, drained and minced
Anchovies 3 fillets, minced
Pitted green olives 3 ½ ounces/ 100 grams, minced
Red onion ½ medium, minced
Capers 2 tablespoons
For the dough
Dry yeast 1 packet, 30 grams
All-purpose flour 21 ounces/ 600 grams
Salt 1 tablespoon
Sugar 2 tablespoons
Extra Virgin Olive Oil ¼ cup, plus more for pan
Coarse salt 1 teaspoon
Instructions
For the filling
Put the tuna, including the oil it is packed in, into a large bowl.  Add all the other ingredients until well combined. Let rest, covered, while you make the dough.
For the dough
Sprinkle the yeast in 3/4 cup of warm water and let rest until it bubbles, about 2 minutes. Sift the flour onto a large bowl. Make a well in the center and fill with the yeast water, salt, sugar, and oil and slowly begin to incorporate the flour into the center hollow until dough forms. Add more water, a little at a time, as needed. Knead the dough until smooth, divide it into two balls, and let it rest in a lightly oiled bowl until doubled, about 1 hour.
Preheat the oven to 400 degrees F.  Lightly oil a round pan, 12 inches in diameter, or a rectangular baking pan, 14 by 10 inches.
Roll out one of the balls of dough and line the pan, bringing the dough up the sides of the pan. Spread the tuna mixture over the dough. Top with the rolled-out second dough ball. Pinch the edges to combine the doughs. Brush with olive oil and sprinkle with coarse salt.
Bake for about 15 minutes until golden brown on top and cooked through.  Allow to rest at room temperature. Serve at room temperature or cold.