Coffee-Hazelnut Crescents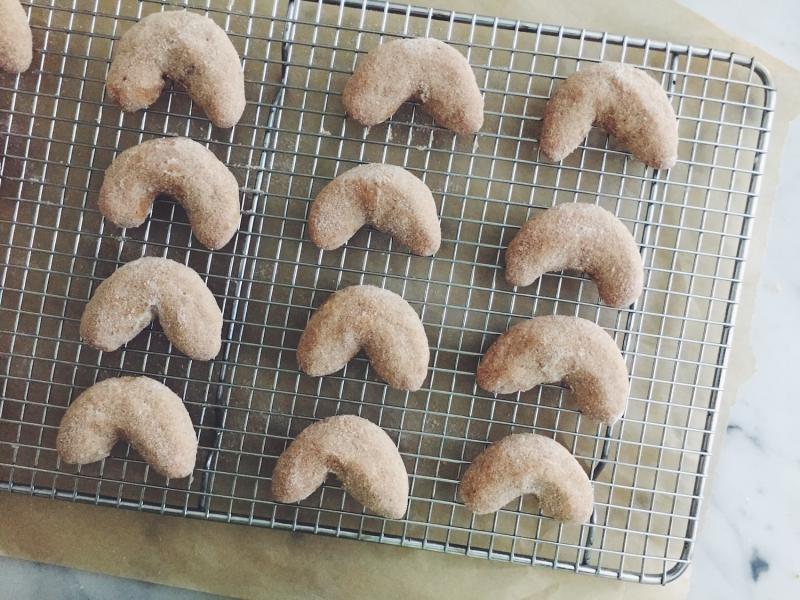 Cooking Time
90 minutes active, plus 2-hours chilling time
Do you have a favorite cookie, one that you absolutely cannot do without during the holidays? In our family, that cookie was always my mother's hazelnut crescents (chifferi) which she made every Christmas without fail. Although you find these cookies in Italy, the recipe was given to my Italian mom by a German woman who lived in our New Jersey neighborhood; what's more, their origin lies in Vienna, Austria, where they are known as kipferl. How's that for traveling traditions? 
The Viennese version of these butter-rich cookies calls for ground almonds, but my mother was partial to the deeper flavor of toasted hazelnuts, and I share this affinity. The cookies, dipped in confectioners' sugar while still warm, are delicate and prone to breaking during dipping. When I was growing up, this meant that my sister and I got to eat the fragments.
Over the years, I've played around with the recipe—just a bit. I sometimes roll the cookies in caster (superfine) sugar flavored with a touch of cinnamon instead of confectioners' sugar; and I like to spike the dough with a hint of espresso. Whichever way you choose, you can't go wrong.
Yields 4 dozen cookies
 
Ingredients Sections
1 cup whole hazelnuts
1/2 cup granulated sugar
1 tablespoon instant espresso powder or very finely ground espresso (optional)
1/4 teaspoon fine sea salt or table salt
8 ounces (1 cup/2 sticks) unsalted butter, cut into pieces and slightly softened
2 cups unbleached all-purpose flour
1/2 cup superfine sugar or confectioners' sugar
1/2 teaspoon ground cinnamon
Instructions
1. Position a rack in the center of the oven and heat the oven to 400° F. Spread the nuts on a rimmed baking sheet and bake until the skins begin to crack, about 10 minutes. Wrap the hot nuts in a clean kitchen towel and let sit for 1 minute. Roll the towel back and forth vigorously to remove the skins. Not all the skins will come off, which is fine. Discard the skins and let the nuts cool.


2. Pulse the nuts and granulated sugar in a food processor until the nuts are coarsely ground. Add the espresso powder and salt, and process until the nuts are very finely ground but not pasty.


3. Scatter the butter around the bowl and pulse until it becomes a smooth mixture. Sprinkle in the flour and pulse just until incorporated. The dough will be very soft. Scrape the dough onto a piece of waxed paper or plastic wrap, form it into a disk, wrap, and refrigerate until well chilled, at least 2 hours and up to overnight.


4. Heat the oven to 325° F. In a small bowl, mix together the superfine sugar and cinnamon.


5. Divide the dough into quarters. Divide each quarter into 12 equal pieces. Roll each piece into a ball and then roll each ball between your palms to make a cylinder about 3 inches long, with tapered ends. Bend the cylinders to form crescents and place them, 1 inch apart, on ungreased baking sheets.


6. Bake the crescents, 1 sheet at a time, until set and just beginning to brown around the edges, 15 to 20 minutes. Transfer the baking sheets to wire racks and let the cookies cool for 5 to 10 minutes. With an offset metal spatula, lift each cookie. Very gently dip each cookie in the bowl of cinnamon sugar, taking care to coat it on all sides. Set the coated cookies on racks to cool completely.


7. Store the chifferi in an airtight container in layers between sheets of waxed paper for up to 2 weeks.