Creamy Polenta and Summer Vegetable Stew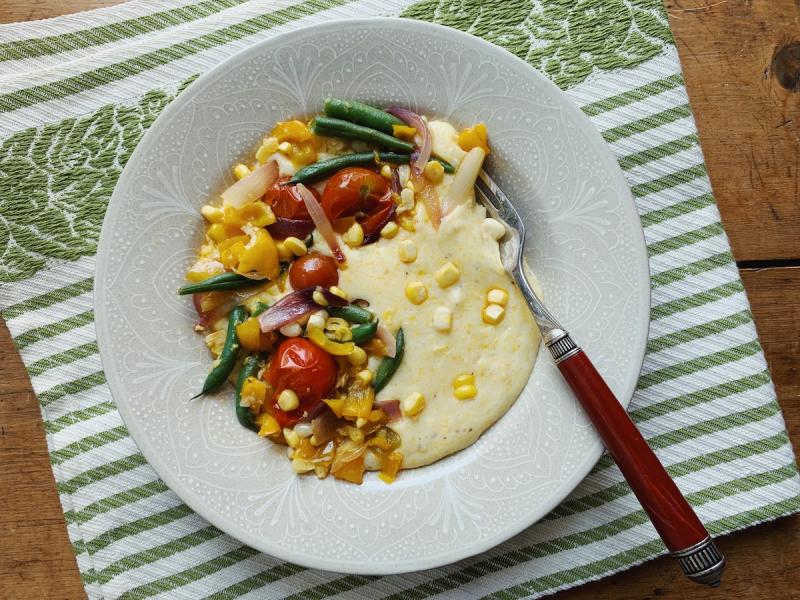 Cooking Time
45-60 minutes
Makes 4 main-course servings
Polenta tends to be associated with cold-weather cooking. Served with ragù in Abruzzo, or with loads of melting fontina cheese stirred in—as is typical in Aosta—a bowl of hot cornmeal porridge in winter is a welcome comfort food.
But polenta has a summer side, too. Grilled polenta "crostini" topped with cheese, tomatoes, or mushrooms, for example, are a ubiquitous summer antipasto. Even more appealing, and elegant, is this simple one-dish supper of soft, custard-like polenta and jewel-toned stewed summer vegetables—tomatoes, green beans, peppers, and corn. 
The secret to getting that custard texture is to use good quality finely ground cornmeal and to cook it slowly, over gentle heat, in a mixture of water and milk, rather than just water. Another special touch: the addition of fresh corn, cut from the cob and stirred into the polenta towards the end of cooking. The corn kernels and their starchy milk both sweeten the porridge and make it extra creamy. 
(Adapted from a recipe in "Unplugged Kitchen," by Viana La Place)
Ingredients
1 cup (150 g) fine-textured stone-ground cornmeal
2 1/2 (570 ml) cups water
2 1/2 cups (570 ml) whole or 2% low-fat milk
1 teaspoon sea salt, or to taste
6 ounces (170 g) small green beans, trimmed
4 tablespoons (60 ml) extra-virgin olive oil
1 medium red onion, cut into small dice
2 yellow bell peppers, cored, seeded, and cut into 1/2-inch pieces
24 cherry tomatoes, about 1 pint
2 ears fresh corn, cut from the cobs
Freshly ground black pepper
1/2 packed cup (50 g) freshly grated Parmigiano-Reggiano cheese, plus more to taste
Handful of fresh basil leaves, torn
Instructions
1. Pour the cornmeal into a heavy saucepan and whisk in the water, milk, and salt. Set the pan over medium heat and bring to a boil, stirring often. Lower the heat to maintain a gentle bubbling and cook, continuing to stir often to prevent the polenta from sticking to the bottom of the pan or burning. The total cooking time will be 45 to 50 minutes; the polenta should be soft and creamy but still pourable and not overly dense. About 10 minutes before it is done, stir in the kernels from one ear of corn. At the end of cooking, season with more salt, if needed. 
2. While the polenta is cooking, make the vegetable stew. Set a steamer basket in a pot of water and bring to a boil. Steam the green beans for 3 to 4 minutes, until just tender but still a little crisp. Drain and transfer the beans to a plate or clean towel to stop the cooking.
3. Put the oil and onion in a large skillet or sauté pan and cook over low heat until the onion is softened, about 7 minutes. Stir in the peppers and season with 1/2 teaspoon salt. Cook until the peppers are tender, about 10 minutes. Tip in the cherry tomatoes and raise the heat to medium. Cook for 5 minutes, until the tomatoes have started to burst and release their juices (lower the heat if necessary to prevent the vegetables from burning). Add the kernels from the second ear of corn and the reserved green beans and cook for another 5 minutes or so, until warmed through. Taste and season with freshly ground pepper and more salt, if needed.
4. Spoon the polenta into four shallow bowls and top each serving with some of the stew. Sprinkle a couple of tablespoons of Parmigiano cheese over each serving and scatter the torn basil on top.