Crespelle alla Fiorentina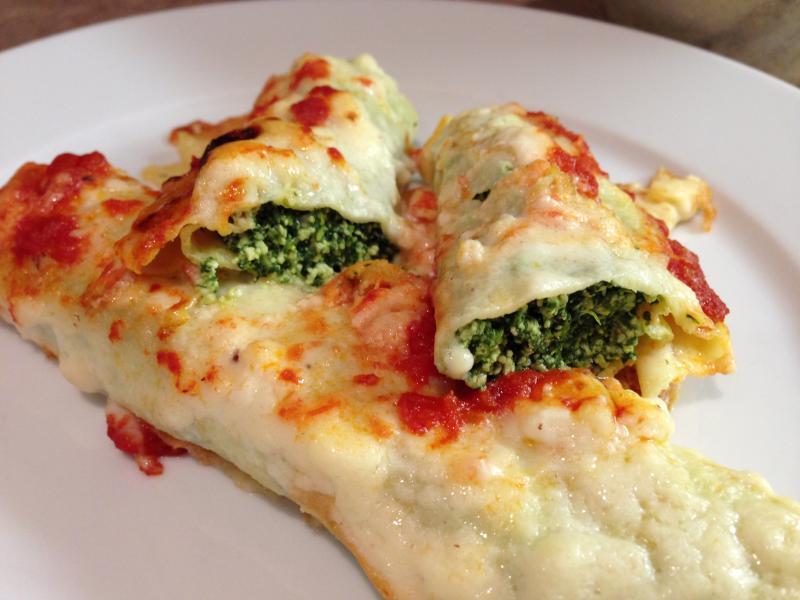 Historical rumors point to Caterina de' Medici for introducing these savory crepes to French cuisine with the help of her Tuscan chefs. Based on various culinary literature, it suggests that actually crepes were Florentine and the French adapted them into what we now enjoy in both sweet and savory forms. Crespelle seem like Cannelloni which are pasta tubes filled with spinach and ricotta, but with a thin pancake crepe instead of pasta. You can use a food processor for the spinach and ricotta steps, as well as the crespelle batter. In the Tuscan countryside, this plate used to be called "pezzole delle nonna." "Pezzole" is the Tuscan way of saying "fazzoletto" which means "handkerchief." Delle Nonna means Grandma's Handkerchiefs. This is definitely a homestyle comfort food found in extremely traditional Tuscan trattorias.
Ingredients (for 4 people)
Ingredients
flour
for Crespelle: 100 g; for Bechamel Sauce: 50 g
eggs
for Crespelle: 2; for Filling: 1
milk
for Crespelle: 1 cup; for Bechamel Sauce: ½ l
butter
for Crespelle: 50 g melted; for Bechamel Sauce: 50 g
Instructions
Blanch spinach for a few minutes. Drain, dry with a kitchen towel and chop finely. In a large bowl, mix the chopped spinach with the rest of the listed ingredients for the filling, grating a bit of nutmeg to your liking.
Make the crespelle batter by mixing the flour, eggs and salt. Add little by little as to avoid making clumps, milk and melted butter. Mix well until smooth and let sit for 30 minutes. You can easily make this batter in a food processor.
In the meantime, make the sauce into a sort of bechamel. In a medium deep saucepan, melt the butter on medium heat and the flour and mix. Add milk to the butter and flour mix slowly, careful not to let it clump. Whisk along the way. Once all the milk has been added,  salt, pepper and add fresh grated nutmeg. Allow to cook for about 10 minutes on medium-low heat, always stirring.
In a non-stick pan large enough for crepes, melt some butter and make 8 crespelle by pouring a little batter in to fill the pan. Flip over after a few minutes or until lightly browned.
With the spinach and cheese batter, spoon a log-like amount in the middle of each crespelle and roll each crespelle flap until they are long tubes. Similar to making enchiladas.  
Butter a medium casserole dish. Line the dish with each rolled crespelle and cover with the bechamel sauce you made previously. Spoon on the tomato sauce just enough to stain the creamy appearance.
Bake at 120degrees C for 20 minutes.