Crunchy Ricotta Ice-cream Sandwich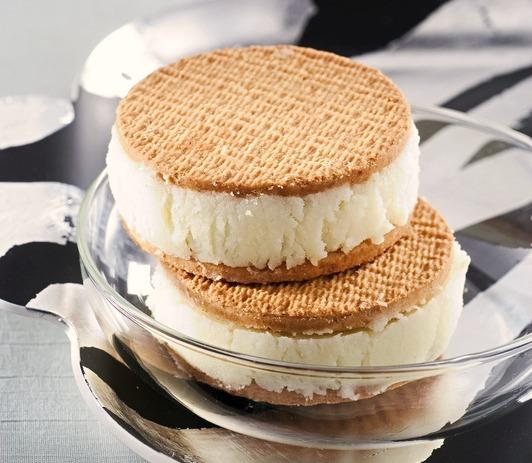 Recipe by Valeria Piccini
(serves four people)
Ingredients
ricotta cheese
250 g, ewes' milk ricotta if possible
grated chocolate
for garnish
Instructions
To make the ice cream, boil the milk with the ricotta, the glucose and the sugar. Filter, and allow to cool.
Once cold, add the rum, mix well and put into an ice cream maker. When the ice cream is ready, mix in the candied peel. Place the ice cream in a rectangular container and put in the freezer.
To make the biscuits for the 'sandwich', lay the filo pastry out flat. With a pastry brush, lightly butter two layers of pastry and place one on top of the other, then sprinkle with the cocoa. You can use two biscuits (like in the picture above), if you prefer!
On top, place another two buttered layers and sprinkle with icing sugar. Place on a baking tray and cook in a preheated oven at 180°C with a weight on top (for example a second baking tray of baking beans). When the pastry is about half cooked (approx. 10 minutes), cut into squares of about 6cm, then put back into oven, uncovered, until golden brown. Allow to cool.
To serve, spread a thick layer of ice cream between two biscuits and place upright on plate. Garnish with a sprinkling of grated chocolate.
(Naturally, for the biscuits you could use leftover dough from a batch of brandy snaps or similar biscuits; don't be afraid to experiment.)