Dolce Torino: "Instant" Chocolate Cake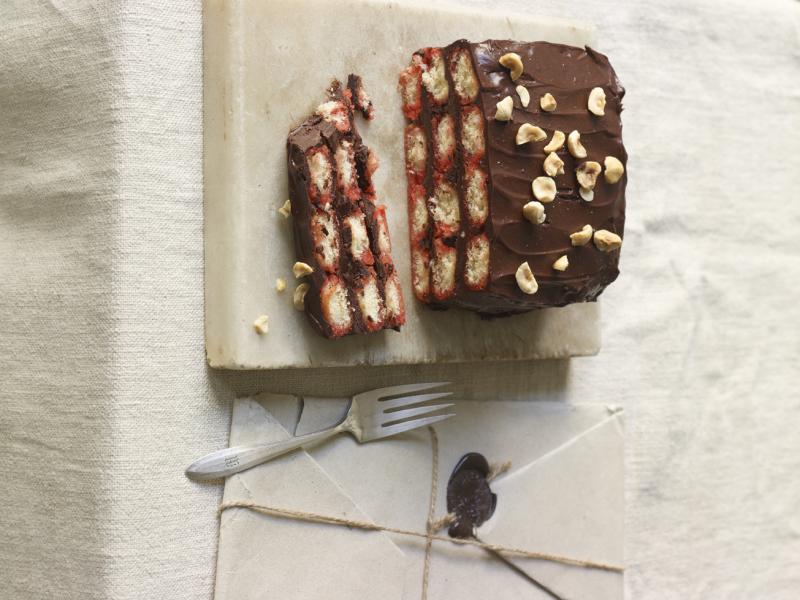 It's hard to believe but this recipe, which feels so ultra modern, actually comes from an Italian cookbook written over 100 years ago! It comes from the 1891 cookbook, Science in the Kitchen and The Art of Eating Well, by Pellegrino Artusi, considered to be one of the most important cookbooks on Italian cuisine. This no-bake dessert is a snap to make and quite pretty. Store-bought savoiardi, ladyfingers, are dipped in liqueur, layered with chocolate sauce and then refrigerated until firm. It slices just like pound cake.       
A perfect recipe that showcases chocolate's complex flavors. One reason Italian chocolate is so good is that Italians care so much about the purity of ingredients. For example, Italy bans genetically modified foods. But there is no better evidence for their concern for quality than the country's long battle with the European Union (EU) over cocoa butter. According to Mario Piccialuti, Director of AIDI, the Italian Confectioners Association: "Since 2003 the EU permits chocolate to certain percentage of vegetable oils, like palm, to substitute for the more expensive cocoa butter. However, Italy does not. By agreement, all members of AIDI use only 100% cocoa butter in their chocolates. Italian chocolate is 'pure chocolate'." 
When is the best time to eat chocolate? According to Giacomo Boidi, owner of Giraudi chocolates, " We Italians eat chocolate when we are happy to celebrate, but we also eat it when we are sad, to cheer us up." He paused, then, eyes twinkling, added, "Italians also eat chocolate before making love, but it is wonderful after making love too!"
Serves 6
Ingredients Sections
unsalted butter, softened: 3 1/2 ounces, 7 tablespoons 
confectioners' sugar: 1/2 cup 
egg yolk: 1
dark chocolate, 70% cocoa or higher: 3 1/2 ounces 
heavy cream: 2 tablespoons
vanilla extract: 1/2 teaspoon
granulated sugar: 2 tablespoons, plus more to taste
sweet liqueur such as Alchermes: 1/4 cup 
Savoiardi, Italian ladyfingers: 12
Hazelnuts: 2 tablespoons crushed
Instructions
In a bowl, using a whisk or electric hand mixer, beat the butter, confectioners' sugar, and egg yolk until very smooth and creamy.
In another bowl, melt the chocolate and cream, in the microwave or over a double boiler. (Cook's note: if using a lower percentage of dark chocolate, add less heavy cream). Stir the chocolate and vanilla into the butter mixture. Reserve.
Combine 1/4 cup warm water and granulated sugar in a shallow bowl and stir until the sugar dissolves. Stir in the liqueur and add more sugar, if you like.
Dip four savoiardi, one at a time, into the liquid. Arrange the 4 liqueur- dipped savoiardi in a row, close together, on a serving plate. Spread with 1/3 of the chocolate mixture.
Repeat, dipping 4 more savoiardi into the liquid and putting them on top of the first row. Spread with 1/3 of the chocolate mixture. Repeat for the 3rd and final layer spreading the remaining chocolate on top and along the sides of the stacked savoiardi.  Sprinkle the top layer with hazelnuts. Refrigerate for a few hours until firm. Serve cold.