Eggs Poached in Tomato Sauce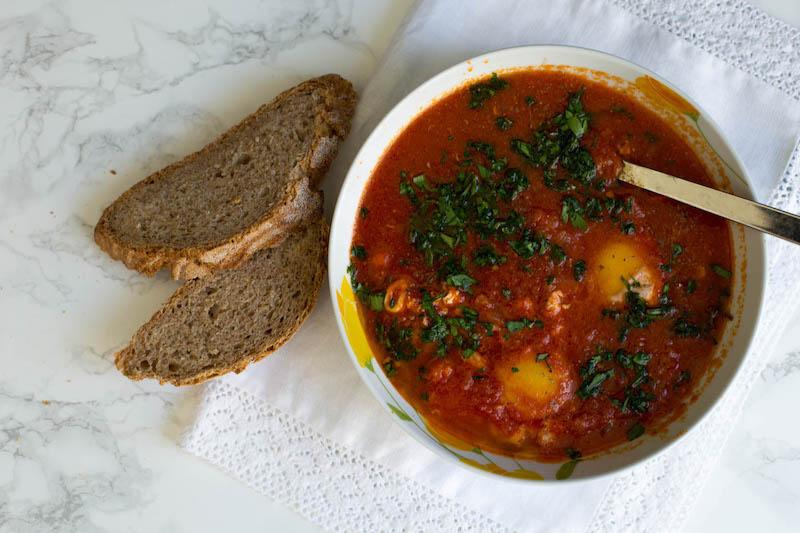 Cooking Time
20-25 minutes
Just come back home from work? Have no idea what to make for dinner? Don't want to fall into the trap of filling up on empty calories? Well, here's a comforting and nutritionally-dense dish Italians are fond of preparing whenever they find themselves in a similar position – uovo al pomodoro, or eggs poached in tomato sauce.  Jars of passata (tomato puree) and cans of pelati (canned tomatoes) are a common staple in kitchen pantries across the country, making them the ideal year-round fallback ingredient and co-star of this simple yet satisfying egg-based dish.
Like with many Italian dishes, each home cook has their own way of making uovo al pomodoro. Its name, ingredients and form can also change according to the season and the Italian region it is made in. My Sicilian nonna called this childhood favourite of mine uova in salsa or 'eggs in sauce'. In Abruzzo and Campania, it is best known as uova in purgatorio ('eggs in purgatory') for the addition of chilli to the sauce.  Some people like adding peppers, spinach and beans to their interpretations. The herbs used to season the dish vary too.  Uova al pomodoro also bares a striking resemblance to that spice-laden Middle Eastern delight, shakshuka.
My 'year-round' version of uovo al pomodoro includes tomato passata, onion, eggs, salt and pepper.  In summer,  I make passata from scratch when tomatoes are at their prime. To make your own, simply cut some ripe tomatoes in half, place them in a large, heavy-bottomed saucepan with some coarse sea salt rubbed in and let them simmer, covered, on low-medium heat until they've softened and their juices have been extracted. After that, pass them through a food mill until pureed.
When serving, I garnish my bowlful of salsa with chopped basil leaves. If not available, chopped parsley works just as well. And, oh yes, lots of crusty sourdough bread is essential for mopping up those runny egg yolks and sauce. Don't bother with cutlery when setting the table for this meal. With all that bread on hand, you won't need it!
Serves 2 
Ingredients
vegetable broth
100 mL or boiling water
black pepper
freshly ground
bread
a loaf of hard-crusted sourdough bread, to serve
fresh basil
a handful, or parsley leaves, chopped
Instructions
Heat olive oil in a frying pan on medium heat, add diced onion and cook until rendered and translucent. Add the tomato puree and the vegetable broth (or boiling water) and increase the heat so the sauce comes to a boil. Add salt and pepper to taste. Reduce heat and simmer uncovered for 20 minutes. The sauce will reduce and  thicken. Crack the eggs into the sauce. Lower the heat and leave them to poach until their whites have cooked but the yolks are still soft and runny. Garnish with chopped basil or parsley. Serve immediately with some freshly sliced sourdough bread.