Farinata di Cavolo Nero (Polenta with Tuscan Kale)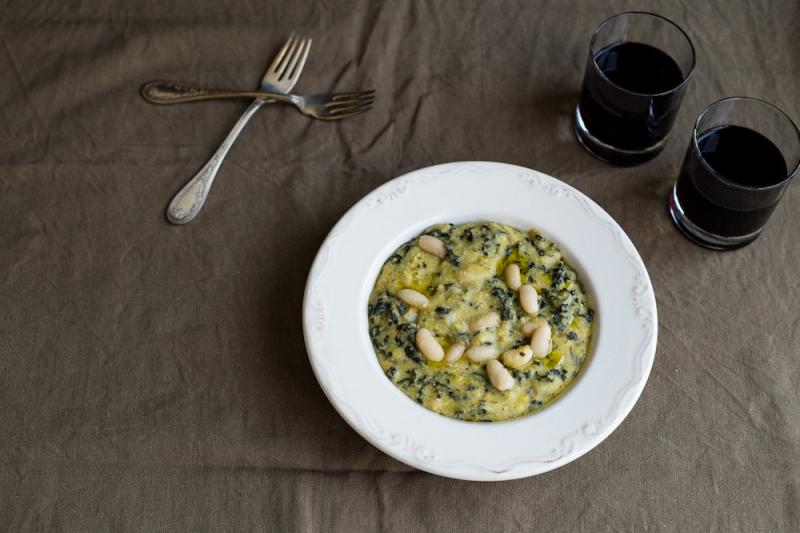 Cooking Time
65-70 minutes
I can always depend on the producers at my local market for insights, advice and anecdotes, especially when it comes to food and cooking. One cold morning a few years ago was a case in point. 'They've been frostbitten but hey, they taste better because of that', said one of my go-to-vendors, as he handed me over a paper bag full of long and embossed cypress-green leaves of cavolo nero or Tuscan kale from his garden on the city's outskirts. I nodded my head in agreement, vaguely remembering all the Tuscan cooks and food writers who swore by this hardy brassica's sweeter flavour after the frost.  Only then, should I try my hand at making that region's winter vegetable per eccellenza on crostini, in ribollita or, my newest favourite, farinata di cavolo nero.
Also known as incavolata or intruglia, this comforting, one-pot dish is made by bringing sauteed cavolo nero, beans (usually cannellini or borlotti), leftover bean cooking broth and creamy polenta together for just over an hour.  When ready, it's ladled immediately into bowls, with a few extra drizzles of extra virgin oil on top. And, if there are any leftovers, no thrifty, self-respecting Tuscan dares to throw these away. The remaining polenta is poured into a greased baking dish and smoothed over. The next day, it's set, ready to be cut into squares and grilled or fried into polenta crostini.
Now, I've opted for a soupier rather than firm, porridge-like consistency for my farinata. The polenta to water ratio in the recipe below reflects this. For those of you, however, who do like the idea of repurposing this dish the way I've just described, you'll need to add less liquid than indicated (about 1 L). Tradition also has it that the liquid added after sauteeing the cavolo nero should be the remaining bean broth. If you're using tinned beans though, vegetable stock works just as well too. Finally, it's become more and more common to add diced pancetta to the mirepoix or soffritto of onion and garlic with the saltiness of the pancetta contrasting nicely with the slightly bitter cavolo nero.  But, do feel free to omit this ingredient if you wish.  The end result, will be tasty and nutritious, regardless.
Ingredients (serves 4 as a starter)
Ingredients
extra virgin olive oil
40mL (2 tbsp) extra-virgin olive oil, plus extra for serving
onion
1 onion (or leek), finely chopped
garlic cloves
1 clove, finely chopped
pancetta
80 g (optional), diced
cavolo nero
450 g finely chopped cavolo nero (Tuscan kale), veins and stems removed
polenta
300 g coarse, preferably stone-milled, polenta
cannellini beans
300 g homecooked or tinned cannellini beans, drained
vegetable stock
2 L leftover bean cooking liquid or vegetable stock
Instructions
Heat a large, heavy-bottomed, non-stick pot with olive oil. Gently cook finely chopped onion and garlic on low heat until soft and translucent. Add the pancetta, cook for 2-3 minutes and then add the cavolo nero. Simmer, covered, over low to medium heat for 20 minutes or until the cavolo nero is tender.
Puree half of the cannellini beans and add these, along with a cup of leftover bean cooking liquid or vegetable stock, to the sauteeing cavolo nero. Stir until well combined. Add the remaining bean cooking liquid or vegetable stock to the pot and bring to boil. Add the polenta in a thin, steady stream while stirring constantly. Lower heat to a gentler simmer and cook, uncovered, for about 40 minutes, ensuring that you stir occasionally. The polenta will thicken as it cooks. Just before removing the pot from the heat, add the remaining cannellini beans, taste for salt and pepper and  stir until well combined. Serve immediately in bowls drizzled with extra-virgin olive oil.