Farro Salad with Beet Pesto & Basil Ginger Carrots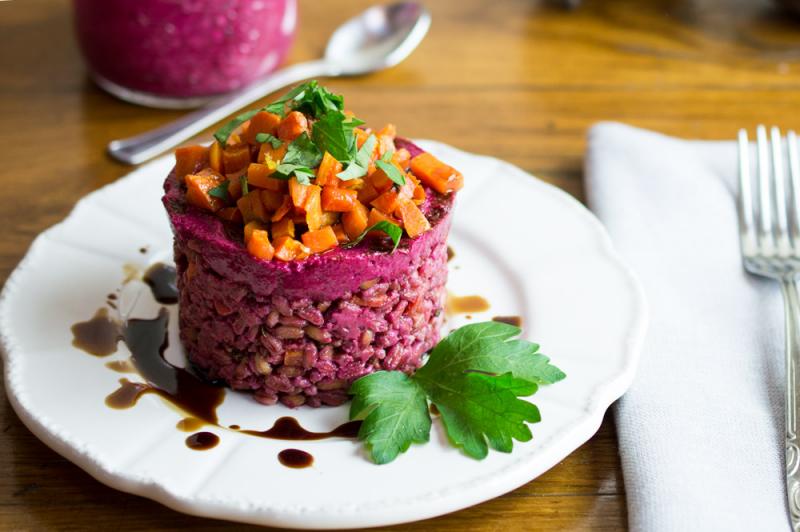 In Italian recipes, you'll find beets used in a variety of dishes to add color, intrigue and nutrients. Many modern Italian vegetarian dishes incorporate this superfood along with other Mediterranean ingredients for simple and flavorful meals. In supermarkets you'll often find beets or rape rosse(also called barbabietole), already steamed while in outdoor farmers markets you're more likely to find them raw or roasted. Both steamed (cottea vapore) and roasted (arrossite) beets work great for this recipe. If you have any leftover beet pesto, spread it on crackers for a healthy and delicious antipasto (appetizer).
Serves: 2
Ingredients
basil
1/8 tsp dried basil
ginger
1/4 tsp fresh ginger, peeled and grated
sea salt and black pepper
to taste
extra virgin olive oil and balsamic vinegar
a drizzle
Fresh parsley
for garnish, optional
beets
1/2 pound cooked beets (steamed or roasted)
extra virgin olive oil
1 tablespoon
fresh lemon juice
Juice from 1/2 lemon
Instructions
Cook the farro according to the package instructions.

In the meantime add the water and carrots to a medium sized skillet. Partially cover the pan and cook over medium heat until almost tender; 7-8 minutes. Raise the heat to medium-high and add the basil, ginger, salt and pepper. Cook until fully tender while stirring often; about 4 minutes. 

For the beet pesto, blend all of the ingredients together with a hand immersion mixer or a food processor. 

Mix 2-3 spoonfuls of the beet pesto into the farro salad and use a food
presentation ring to create a stacked salad like in the photo (optional). Top with
the cooked carrots, a drizzle of extra virgin olive oil and balsamic vinegar. 
Garnish with parsley if desired. Buon appetito! 

*Any leftover pesto can be used as a dip with raw vegetables or spread on
crackers for a delicious and easy appetizer. You can also substitute the farro grains
with pasta, couscous, millet, quinoa etc.