Favó con Pane Nero: Ditalini Pasta with Crunchy Black Bread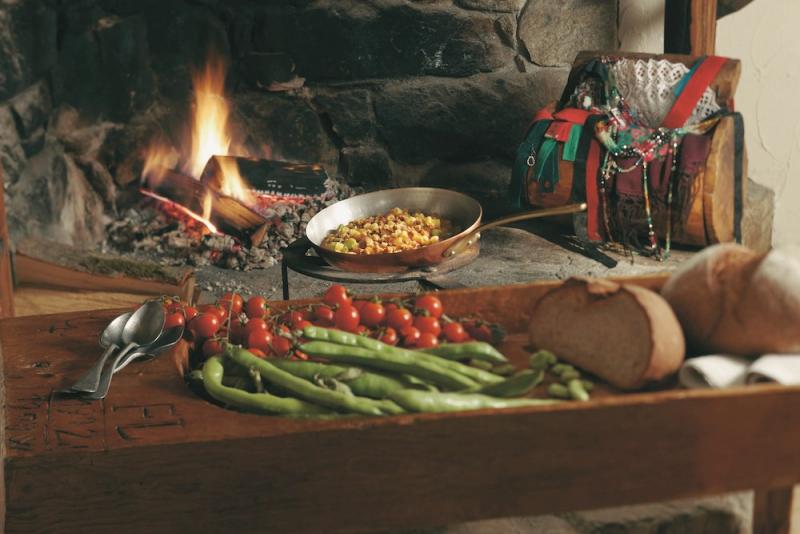 This dish underscores the earthy nutty flavor of fresh fava beans, which combines wonderfully with the crunchy bread bits and creamy Fontina cheese. It's one of the few pasta dishes from Valle d'Aosta, as that northern most Italian region specializes more in polenta and rice. It's made with small tube pasta called ditalini, which means "little thimbles."
This recipe is a specialty of Ozein, a small town that each year hosts La sagra della Favò, a festival held in late July in honor of the classic Alpine ingredients in this luscious dish: fontina cheese, black bread and fava beans. The recipe is centuries old and was traditionally served to the hard working field hands during the harvest season. 
It's traditionally made in late summer and early fall with fresh fava beans, but is wonderfully warming during the chilly winter months made with dried fava beans.
Serves 4 to 6
Ingredients
fresh fava beans: 1 1/2 pounds
butter: 7 tablespoons, plus more as needed 
shallot: 2 large, thinly sliced in rounds
tomatoes: 4, peeled, seeded and diced
double or triple tomato concentrate: 4 tablespoons 
ditalini pasta: 3/4 pound
fontina cheese: 1/4 pound, cut into small pieces
Salt and black pepper: To taste
Instructions
Shell the fava beans and boil them in salted water in a large saucepan until tender. Remove the fava beans using a slotted spoon, but save the water.  Peel the beans, set aside.
Meanwhile, cook the butter in a saucepan until it begins to turn golden, add the bread and fry until toasted on all sides. Remove the bread, set aside. In the same pan, sauté the shallots until soft, adding a little more butter, if needed.  Add the tomatoes, tomato concentrate, and fava beans and cook for a few minutes. 
Cook the pasta in the fava bean water until al dente, drain, and add to the sauce with little of the cooking liquid, stirring until well combined. Add the cheese and stir until completely melted. 
Just before serving stir in the toasted bread, season to taste with salt and pepper.