Fig and Prosciutto Penne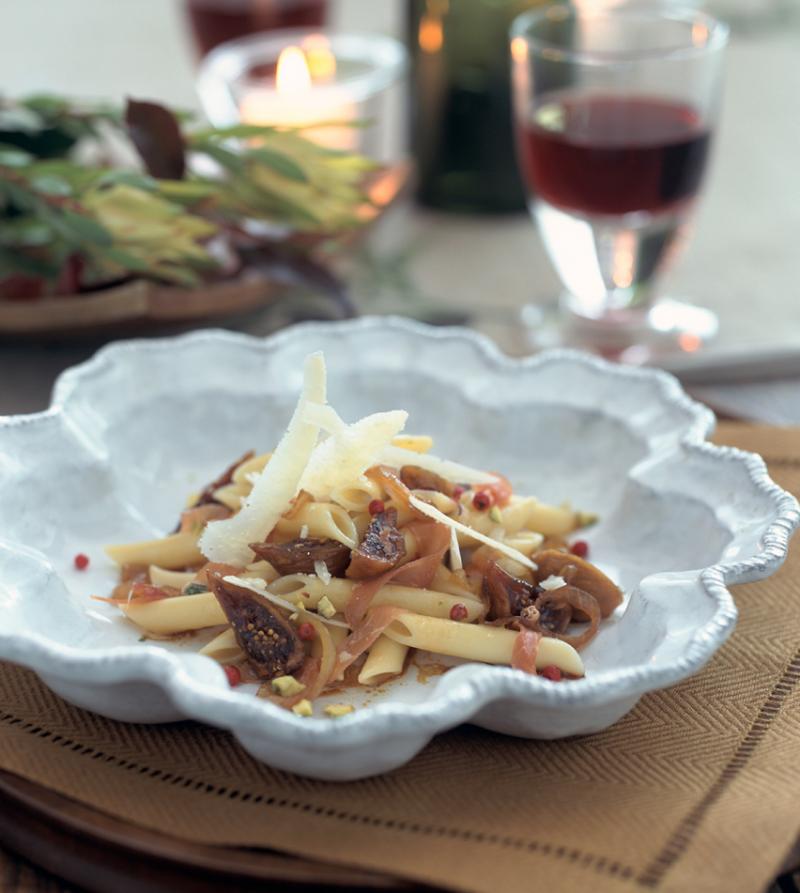 Figs and prosciutto, a classic Italian combination, make a delicious pasta sauce. Since ancient Roman times, figs have been prized for their sweet flavor and were eaten fresh when in season and dried to enjoy all year long. Rich fruit sauces for pasta have been popular in Italy since the Renaissance, a pairing that shouldn't really be surprising. After all, tomatoes are a fruit, too! 
Dried figs are simmered with wine and stock, giving them a delightful, complex flavor with a fabulous firmness. The silky-sweet fig sauce is tossed with penne and then accented with luscious prosciutto and crunchy pistachios. Their sweetness is balanced with the piquant bite of pink peppercorn and the salty goodness of Parmigiano-Reggiano cheese.  
Serves 6
Ingredients Sections
unsalted butter, 1/2 cup (1 stick)
extra-virgin olive oil, 2 tablespoons
shallots 6, sliced
white wine, 1 cup
dried Calimyrna figs, 16 to 18, about 12 ounces, thinly sliced
chicken stock, 1 1/2 cups
Penne or other short pasta, 1 pound
prosciutto di Parma 1/4 pound, thinly sliced
Parmigiano-Reggiano cheese, 1/2 cup shaved
pistachios 1/4 cup, coarsely chopped
whole pink peppercorns, 1 tablespoon
Instructions
Heat the butter and oil in a medium sauté pan over medium heat until the butter melts. Sauté the shallots until translucent, about 3 minutes.  
Add the wine and figs and simmer until the wine is absorbed and the figs soft, about 8 minutes. Stir in the stock and pink peppercorns and simmer, covered, for about 7 minutes.  
Remove from heat and let rest, covered, while you prepare the penne according to package directions. Drain and toss with the fig sauce.  
Serve the penne topped with the prosciutto, Parmigiano-Reggiano, and a sprinkle of pistachio nuts and pink peppercorns.