Fresh Herb & Asparagus Lasagna
Purists will scoff, but you really can make lasagna out of just about anything. The vegetarian version here gets all its wonderful flavor from fresh asparagus, that crowning glory of springtime and longtime bearer of erotic lore. In the Greco-Roman world, many a historical heavyweight wrote about asparagus, such as 'father of botany' Theophrastus, Apicius, Cato, and the Roman poet Martial (whose colorful Epigrams include an ode to the asparagus cultivated in the marshy areas around Ravenna).
Widely associated with matters sexual in nature throughout the medieval period—as a cure for impotence and infertility, an aphrodisiac, and even a contraceptive—asparagus was not to gain solid footing in the Italian culinary realm until the Renaissance, and even then remained within the purview of the noble classes. Today, thankfully, asparagus in all its varieties is readily available this time of year, even to us plebeians. 
Ingredients
lasagna pasta sheets
10-12 homemade, or pre-made
grated Parmesan cheese
1 to 1 & 1/2 cups
parsley
Along with mixed fresh chives, thyme, 1/2 cup, chopped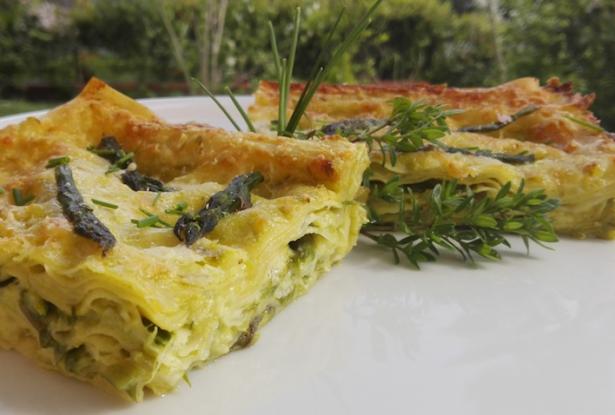 Preparation
Heat the oven to 180° C.
Grate the cheese and chop the herbs and set both aside. 
Cut the flowers off both bunches of asparagus. Slice each flower in half lengthwise. Blanch the flowers for 4-5 minutes, strain, and set aside. Keep the water hot to reuse for the next step.
Snap the tough ends off the asparagus stems. Boil the stems 10 minutes. Strain and transfer to a food processor.  Add a teaspoon of salt and process until a thick cream forms. 
Make the béchamel. Heat the butter and flour together in a non-stick saucepan over low heat, combining with a wooden or silicon utensil until you have a uniform, thick roux. Add the cream and milk and finely grate in the garlic. Turn the heat to medium and stir continuously to dissolve the roux. Add 1/2 teaspoon circa salt and grind in some black pepper. Keep stirring as the béchamel thickens. For this recipe, you want a very thick béchamel: remove from the heat as soon as it begins to turn from creamy to glue-like consistency.
Add the asparagus cream to the béchamel and combine. Correct for salt. 
Begin building the lasagna. Lightly oil the baking dish and line the bottom with your first sheet of pasta. Add a scoop of the asparagus-béchamel and brush or spoon over the entire surface. Layer in some of the asparagus flowers, sprinkle with some of the herbs and then the cheese. Add another sheet of pasta and proceed in the same manner. Be sure to save some of the béchamel, asparagus flowers, and cheese for the top layer. 
Bake for 20-25 minutes or until golden and bubbly. Let rest at least 5 minutes before slicing. Serve with more fresh herbs.