Fruit and Nut Christmas Eve Lasagna: Lasagne da fornel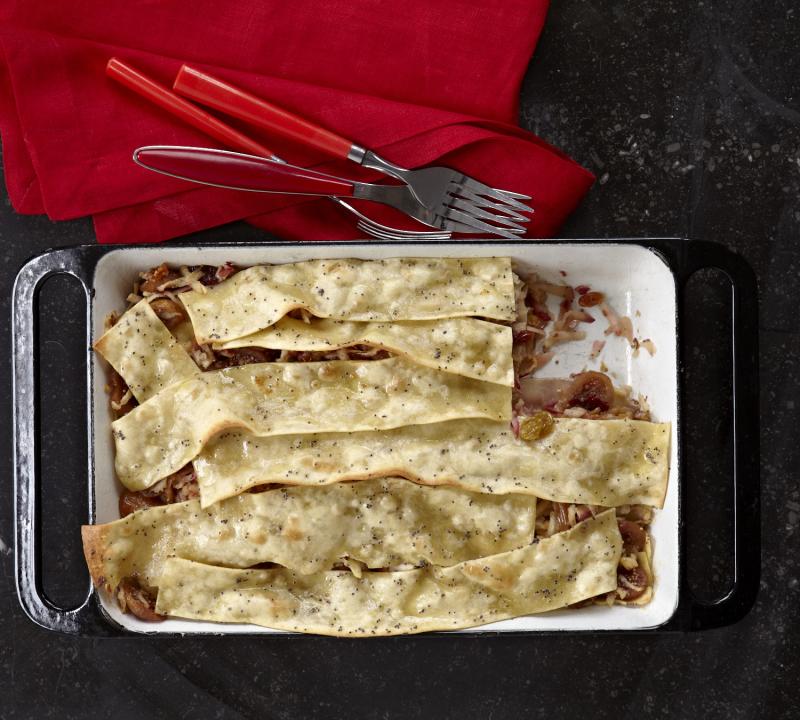 A Natale con I tuoi e a Pasqua con chi vuoi, "Spend Christmas with your family, but Easter with anyone you want," is a popular expression throughout Italy. Every region in Italy has special foods associated with Christmas, including many unique meatless Christmas Eve pasta dishes. This meat and dairy-free specialty from the Dolomite area of northern Italy is traditionally served as a first course on Christmas Eve. In the United States we usually imagine a cheesy, red-sauce dish when we think of lasagna, but there are many, many other versions.  Lasagne da Fornel is one of the most unusual! Seasoned with apples, dried fruit, nuts, and poppy seeds, a spice we don't usually associate with Italy. Poppy seeds, semi di papavero in Italian, are featured in many Austrian, Czech, German and Hungarian dishes, underscoring the influence of these countries on the cuisine of Friuli-Venezia Giulia.
This exceptional pasta dish is sort of a savory apple strudel.  Apples are popular in many dishes in northern Italy and there are many types of apples that grow in the South Tyrol area of Trentino-Alto Adige, with a whopping thirteen varieties having received IGP designation. 
In Italian "lasagne" is the plural of lasagna. Lasagne da fornel is just one of the many types of free form lasagne found in Italy.   
Serves 6 
Ingredients Sections
Ingredients
dried white figs: 10 thinly sliced
white wine: 1/2 cup
golden raisins: 1 cup
walnuts: 1 cup finely ground 
red delicious apples: 2, grated
butter: 12 tablespoons, melted, plus more for greasing the pan 
Fresh egg pasta lasagna sheets: 1 pound, cut into 2 1/2 to 3 inch wide strips, or any fresh wide-cut egg noodle 
Poppy seeds: 2 tablespoons 
Instructions
Preheat the oven to 350 F/180 C. Generously butter a 9-inch oven-proof serving dish or baking pan. In a small saucepan combine the figs and wine and bring to a boil over high heat. Boil on high for a minute or two, then reduce the heat to low and simmer until all the wine is absorbed, about 2 minutes. In a bowl combine the figs, raisins, walnuts, grated apples and 5 tablespoons melted butter. 
Cook the lasagna strips in boiling, salted water until al dente. Drain and toss with 5 tablespoons butter and the poppy seeds. In the prepared pan, put down a single layer of lasagna strips haphazardly (do not arrange the noodles end to end—just put them in a flat layer). Spread with 1/3 of the fruit mixture. Repeat for 2 more layers. Top with a final layer of noodles and drizzle on 2 tablespoons of melted butter. Bake about 20 minutes, until hot throughout. Serve.