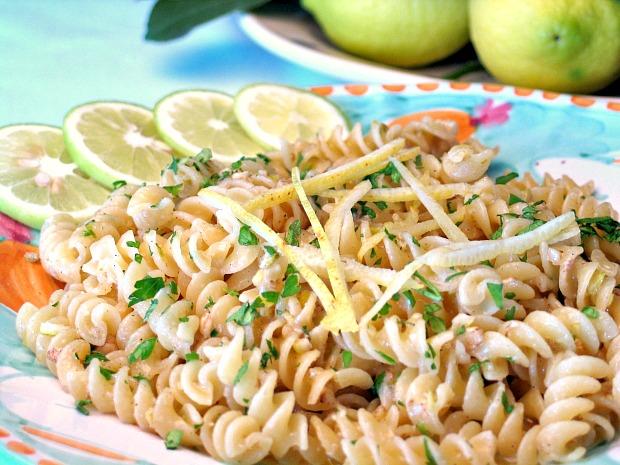 Simple and essential, this dish typifies the Italians' gift for turning whatever they have to hand into a feast. Serve when you have unexpected guests, when you don't want to spend too much time in the kitchen or when (magari!) you have more lemons than you know what to do with.
Ingredients
lemons
3, untreated (1 sliced, for decoration)
parsley
small bunch flat leaf
fusilli
350 g, from Gragnano
provolone del monaco cheese
100 g, grated (or substitute with normal provolone)
Instructions
Bring a large pan of salted water to the boil for the pasta.
Peel lemons, taking care only to remove the yellow part of the peel and avoiding the bitter white pith.
Finely chop lemon peel, walnuts and parsley. Pour a generous swirl of olive oil into a shallow saucepan or frying pan and heat.
Add the lemon peel, walnuts and parsley, and sauté for a few minutes.
Season with salt and pepper.
In the meantime, cook pasta in boiling water until al dente. Drain pasta and add to the lemon mixture. Toss well and at the last minute mix in the grated provolone. Serve immediately on plates decorated with slices of lemon.