Gabriella's Pizza Rustica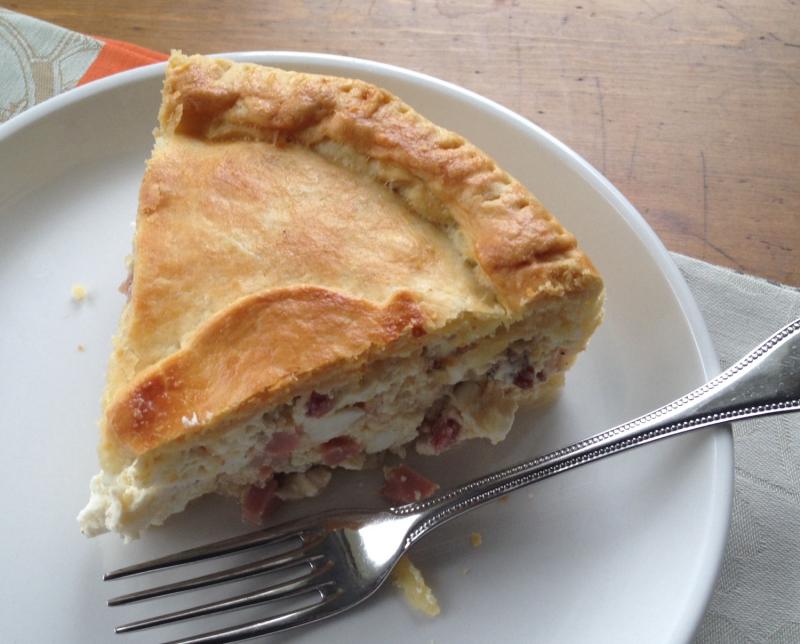 Cooking Time
1 hour prep, plus 1 hour baking time
Like any child, I was excited on Easter morning about delving into the jelly beans and chocolate bunnies that I found in my Easter basket. But I was just as excited about later in the day, when I could dig into a slice of my mother's pizza rustica.
Don't let the word 'pizza' fool you. This is not tomato- and cheese-topped saucer of dough baked in a hot oven. Pizza rustica is more like a torte, brimming with a rich filling of cheeses, diced cured meats, and hard-boiled eggs, all enclosed in a flaky golden pastry crust. It is the dish with which millions of Italians and Italian-Americans break the Lenten fast (even if actual fasting hasn't taken place). 
As with so many Italian recipes, pizza rustica varies from region to region, from town to town and from cook to cook. It typically contains the ingredients of spring—eggs and fresh cheese, sometimes greens—and ingredients from the pantry, such as prosciutto or salami. It goes by different names, depending on where you are from, and religious symbolism is usually associated with it. Ada Boni's all-encompassing cookbook on Italian cuisine, "Il Talismano della Felicita" (the talisman of happiness), first published in 1928, contains four recipes for pizza rustica, with different doughs and fillings.
In and around Naples pizza rustica is called "pizza ripiena," or, in Neapolitan dialect, "pizza chiena," which means "stuffed pizza." It is traditionally made with a yeasted dough and may contain fresh sausage in addition to cured meats. References to it date back at least to the reign of the Bourbons in the 17th century. When Neapolitans and other southern Italians immigrated to the U.S. in the late 19th and early 20th centuries they brought their "pizza chiena" recipes with them, and it is from that term that we get the rather ungainly Italian-American name for it: pizza gain. Italian-American versions of pizza rustica (or, if you must, pizza gain) often include American ingredients, such as ham and pepperoni.
On the island of Ischia, off the coast of Naples, locals make a version of pizza rustica known as 'il Casatiello.' It's more of a savory cheese- and meat-stuffed bread than a torte, shaped into a ring (to resemble a crown of thorns) with whole eggs nestled into it. Farther north in Liguria, the region that gave us pesto, pizza rustica becomes torta Pasqualina (Easter pie), a layered affair of olive oil pastry or phyllo dough, greens (such as chard, beet greens or spinach), cheese and whole eggs carefully broken right into the filling before baking. If you make an old-school version, the layers of torta Pasqulina should up to 33, one for each year of Jesus's life.
My mother's pizza rustica is somewhat typical of the Abruzzo region, in central Italy, where she grew up. Some Abruzzese variations call for sweet pastry dough—combining sweet dough with a savory filling is a centuries-old practice in Italian cuisine. But I prefer my mother's, which omits the sugar and instead uses a squeeze of fresh lemon juice. The acidity balances the richer ingredients in the butter-based dough and in the filling, which consists of diced prosciutto, mortadella and soppressata and a mix of six cheeses. 
Ingredients Sections
For the pastry
2 1/2 cups unbleached all-purpose flour, plus more for the work surface
1/2 cup (1 stick) unsalted butter, chilled and cut into pieces
1/4 teaspoon kosher or sea salt
2 large eggs
4 or 5 tablespoons freshly squeezed lemon juice
For the filling
1 pound fresh cheese such as basket cheese or primo sale (see NOTES)
8 ounces fresh mozzarella, diced
1 pound fresh ricotta
1 cup (4 ounces) shredded sharp aged provolone cheese, such as Auricchio
1 1/2 cups (6 ounces) freshly grated Parmigiano-Reggiano
1/2 cup (2 ounces) grated pecorino Romano
4 ounces mortadella, cut into small dice (about 2/3 cup)
4 ounces prosciutto, cut into small dice (about 2/3 cup)
4 ounces sopressata, cut into small dice (about 2/3 cup)
Kosher or sea salt
Freshly ground black pepper
3 large eggs, lightly beaten
1/4 cup half-and-half or whole milk
To assemble
Butter for the pan
Unbleached all-purpose flour for the work surface
1 egg, lightly beaten with 2 tablespoons water
Instructions
Dough

1. In the work bowl of a food processor fitted with the metal blade, combine the flour, butter and salt and pulse briefly until combined. Add the eggs and the lemon juice and pulse just until a ball of dough begins to form, fewer than 10 seconds.


2. Turn the dough onto a lightly floured work surface. Gently pat the dough into a disk. Do not knead or overmix. Wrap the disk tightly in plastic wrap and refrigerate until needed. The dough may be frozen for up to 1 month. Bring it to slightly cooler than room temperature before using (see NOTES).


Filling

1. Using a wooden spoon, a fork, or your fingers, crumble the basket cheese into a large bowl. Add the mozzarella, ricotta, provolone, Parmigiano and pecorino cheeses. Fold everything together with a wooden spoon or sturdy spatula. Add the mortadella, prosciutto and sopressata and mix again. Taste and adjust the seasoning with salt and pepper if necessary.


2. Pour the beaten eggs over the mixture and stir until thoroughly combined. The filling should be dense and thick enough to stand a spatula or wooden spoon in, but it should not be so thick that you can't incorporate the ingredients. Add the half-and-half or milk and mix well. Cover the filling with plastic wrap and set aside (see NOTES).


Assembly

1. Heat the oven to 350° F.


2. Generously butter a 9-by-13-inch pan or a 10-inch round springform pan with sides at least 2 1/2 inches deep.


3. Cut the dough into 2 portions, one slightly larger than the other. Rewrap the smaller portion and set aside. On a lightly floured work surface, roll out the larger portion of dough into a rectangle or circle, depending on the shape of your pan, so that it is large enough to cover the bottom and sides of the pan with some overhang. The dough should be about 1/4-inch thick. Place your rolling pin on the edge of the dough closest to you and gently wrap the dough around the rolling pin. Lift the dough over the pan, then carefully unroll it. Gently press the dough into the pan. Spoon the filling into the pan and smooth out the top.


4. Roll out the remaining portion of dough and drape it over the filling. Gently press it directly against the surface of the filling. Trim the top and bottom crusts so that only 1 inch of overhang remains, then press them together to seal. Roll the overhang in toward the center of the dough to form an edge. Continue to roll the edge until you have gone all the way around the pan. Press down on the rolled edge with the tines of a fork to seal and form a decorative crust. If desired, use leftover dough to cut out shapes (I use cookie cutters to make baby chicks and eggs at Easter) and arrange them on top of the pie, using a little of the egg mixed with water to help them adhere. Using a sharp knife, cut several slits in the top of the pizza. Lightly brush the top crust surface with egg wash.


5. Bake for about 1 hour, until the top is deeply golden. Transfer the pan to a wire rack to cool for 20 to 30 minutes. If using a rectangular pan, carefully invert the pizza onto a platter or cutting board, and then re-invert it onto the rack. Let cool completely. If using a springform pan, remove the sides and carefully move the pie to the rack or a large plate or platter. If serving immediately, cut the cooled pizza into slices or large bite-size pieces and arrange on a platter. Serve warm, at room temperature or cold.


NOTES

Basket cheese is usually sold in 2-pound plastic baskets in the U.S. It is a fresh cheese that is used as a stand-in for sheep's milk ricotta or for primo sale, a drained and lightly salted fresh cow's milk cheese. Basket cheese can be hard to find but is usually available at Easter time at Italian delis and gourmet markets. If you can't find basket cheese or primo sale, use imported Greek feta or ricotta salata instead. In this case you will most likely not need to add salt.

The pastry dough may be made and stored, tightly wrapped in plastic, in the refrigerator, a day in advance, or frozen for up to 1 month. Bring the dough to slightly cooler than room temperature before rolling it out. The filling may be made up to a day in advance and kept, in a tightly lidded container, in the refrigerator.

The pizza rustica may be baked in advance, wrapped tightly in plastic, and stored in the refrigerator for 1 day, or frozen for up to 1 month. Reheat it, uncovered, in a moderate oven (350° F) until completely warmed through.