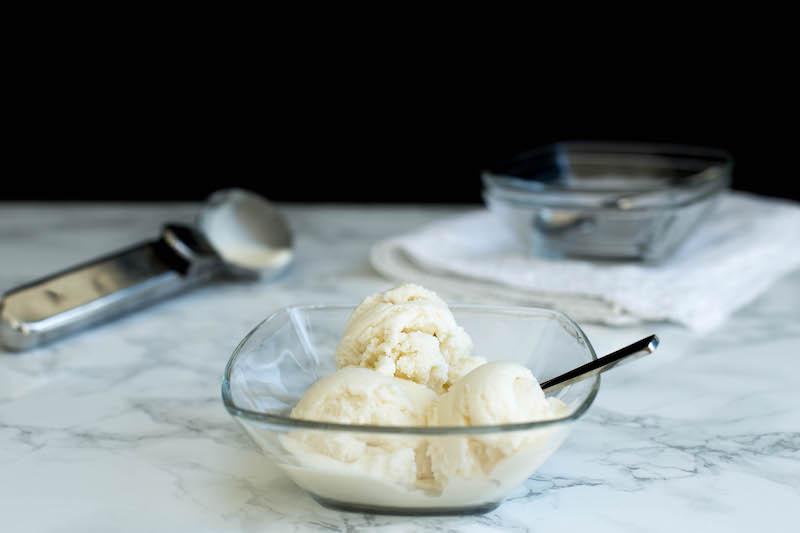 Cooking Time
15-20 minutes to prepare the custard; 1-3 hours cooling time; 30 minutes for churning the gelato
Italian gelato differs considerably from ice-cream. There's the fat content, first of all. Unlike ice-cream, which, as its name suggests, is heavy on the cream, gelato uses a higher milk to cream ratio. Egg yolks, too, are used sparingly in a handful of flavours requiring a rich custard-base such as vaniglia and crema. In Sicily, gelato makers generally eschew panna (cream) and tuorli (egg yolks) altogether by creating a custard-like crema rinforzata made up milk, sugar and cornstarch as an emulsifier to enrichen their gelati instead.  Secondly, the texture of gelato is denser due to the slower speed at which it is churned. In contrast, both artisanal and mass-produced ice-cream are airier due to the faster churning process involved in making them.
The recipe below is for a simple yet delicious gelato flavour that often gets overlooked by gelateria patrons in Italy. Fior di latte, which translates to 'flower of milk' or 'the best part of the milk', is made with precisely that, milk, a bit of cream and sugar. Yes, that's it. Yet many artisan gelato makers argue that mastering this wonderfully unadorned gusto is essential to learning more complex flavours later on. For best results, use fresh full cream milk and a finely ground variety of sugar. Please note that you will also need an ice-cream maker (small pre-freeze versions can be bought at a very reasonable cost) to make this gelato according to the method below.
Gelato al fior di latte (serves 6-8 people)
Instructions
In a bowl, dissolve sugar and cornstarch in 250 mL milk. Stir thoroughly to ensure no lumps are formed. Set aside and combine the remaining milk and cream in a saucepan on low to medium heat. Bring to just below boiling point. Tiny bubbles should appear around the edges of the saucepan. Remove from heat. Add the milk in which you have dissolved the sugar and the cornstarch to the saucepan, stir and return to heat.  Bring to just below boiling point again ensuring that you stir constantly. Your mixture should have the consistency of a custard. Cover and leave to cool. Once it has reached room temperature, refrigerate your crema. When chilled, assemble your ice cream maker according to the manufacturer's instructions. Add the crema and churn until frozen. This should take about 30 minutes. For a softer-style gelato, serve immediately. For a firmer consistency that lends itself more easily to scoops, transfer to an airtight container and freeze for 1 hour before serving.