Gnocchetti di Pane (Bread Gnocchi)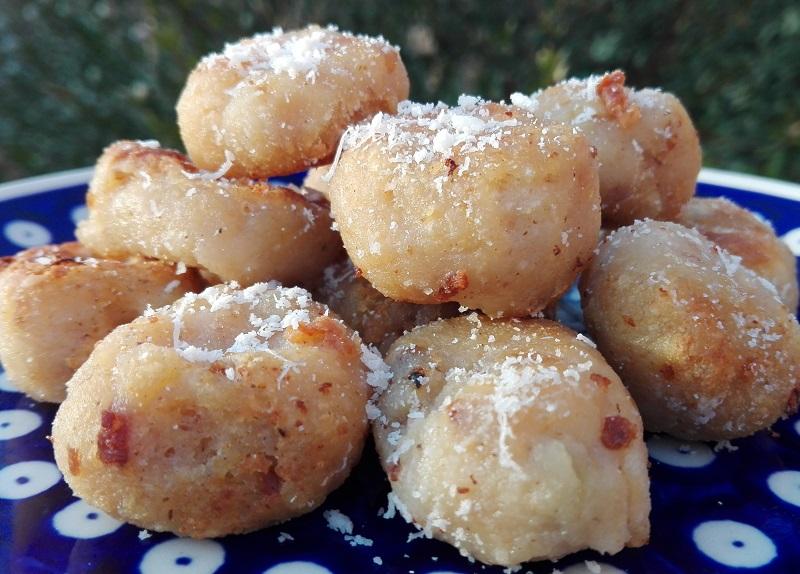 These gnocchetti or 'little gnocchi' are another great way to use up old bread, made much in keeping with the spirit and practice of the Italian cucina povera tradition—with simple, 'poor' ingredients invariably found in the pantry.  
Use any type of stale or slightly old bread, although avoid very dark or grainy types. Cut off any hard crusts, especially if you are making the gnocchetti with a stale ciabatta or Tuscan loaf. The crusts of soft sliced bread are fine.
Once ready, the gnocchetti can be served plain with a dusting of parmigiano cheese (pictured). Or add them to a pan of rich tomato sauce or meat ragù.  They also make for a yummy snack, served warm. 
Ingredients for 3-4 people
Ingredients
whole milk
250 ml (circa 1 cup)
flour
50 grams (plus more for working)
Instructions
Tear the bread into small pieces. Place the pieces in a bowl and cover with the milk. Combine well and let the bread absorb the liquid.
Finely dice the pancetta together with the shallots. In a large pan, cook this mixture in 3 tablespoons of the butter until soft. Remove from heat.
Transfer the bread to a fine mesh strainer and press out as much liquid as possible.  Crumble the mixture with your fingers. Now add the bread to the pan with the pancetta and shallot. Beat the egg lightly and add it to the mixture along with the flour. Salt and pepper to taste. Thoroughly combine the mixture and let cool.
When cool enough to handle, transfer the bread mixture to a floured work surface. Knead for a few minutes until you have a smooth dough, adding small amounts of flour as needed. Divide the dough in two and roll each piece into a long tube, no more than 1 inch in diameter. Cut the dough into pieces roughly ½ inch long and form small balls of more or less the same size.
Cook the gnocchetti in a large pot of boiling, salted water for about 5 minutes. Stir them gently to help prevent sticking. When ready, they will rise to the surface and have turned slightly yellowish. Strain them carefully in batches—do not dump them into a colander—and set aside to dry out.
Melt the remaining butter in the large pan (wiped clean if necessary) and lightly fry the gnocchetti on all sides until slightly golden and crisp. Transfer to a plate and dust with grate parmigiano, or serve with a pasta sauce.