Gnocchi alla romana (Roman-style semolina gnocchi)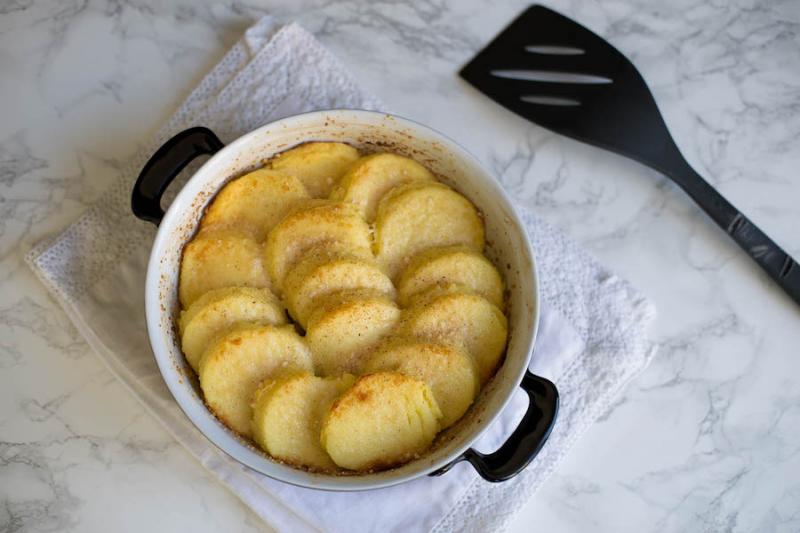 Cooking Time
20-25 minutes (plus two to three hours cooling time)
When you hear the word gnocchi, chances are you'll automatically think of gnocchi di patate, or the soft, pillowy potato dumplings that have conquered food lovers around the world.  In Italy though, gnocchi come in a variety of forms. Leftover bread is used to make the boiled canederli of Trentino-Alto Adige. In Tuscany and Piedmont, dumplings respectively called gnudi and rabaton are made with cooked greens and ricotta. On the Sorrentino coast south of Naples, potato gnocchi are often baked with tomato sauce, mozzarella and basil. And, in the Eternal City, the locals keep warm in the colder months by preparing gnocchi alla romana, semolina discs baked in the oven with a generous layer of butter and parmesan cheese on top.
Despite their name and association with the region of Lazio, the origins of this dish  are subject to debate. Some people continue to point out the liberal amounts of milk, eggs, butter and parmesan that are used  to make these these crisp,  and comforting rounds of semolina. The theory is that this preparation must hail from further north along the peninsula  - possibly from Piedmont or Lombardy - instead, given these regions' heavy reliance on these rich, animal-derived ingredients in cooking.
Whatever their origins, no one would call into question how delicious gnocchi alla romana are. And, luckily for home cooks keen to replicate the flavors of Italy in their home kitchens, they are also very easy to make! Certainly, compared to their potato counterparts, there's no need to worry about them becoming gluey and lumpy, the downfall of many a potato dumpling.
The premise is simple. Prepare a polenta-like porridge with some coarse semolina in simmering milk. When the porridge thickens and becomes harder to stir, remove the pot from the heat. Add some grated parmesan and egg yolks to the mixture and stir vigorously until well-combined. The cooked semolina is then spread out flat onto a lightly-greased surface and left to reach room temperature. When cool, the gnocchi are made into their characteristic, disc-like shape with the aid of a lightly-oiled glass or cookie cutter. These are then laid out in a slightly inclined, overlapping fashion in a baking tray and sprinkled with parmesan and dotted with butter. Finally, the semolina discs are baked until crisp and golden brown on top.
A few notes on preparing these Roman-style gnocchi. Semolina is a coarse variety of durum wheat resembling cornmeal or polenta. If in doubt, Italian brands of semolina are often labelled as being recommended for making these type of gnocchi. As for serving, these hearty, butter and cheese-encrusted semolina rounds work best as a starter or as a piatto unico (stand-alone dish). Smaller portions could work as a side to a main course too.  
Ingredients (serves 4 as a starter)
Ingredients
butter
60 g, plus extra for greasing baking trays
Instructions
Bring milk,  30 g of the butter, salt and freshly ground nutmeg to boil in a large, heavy-bottomed saucepan.  Lower heat to a gentler simmer.  In a slow and steady stream, add the semolina, ensuring that you whisk constantly to avoid forming lumps.  Switch to a wooden spoon and continue to stir the thickening porrdge constantly. Remove from heat once the mixture forms a dough-like mass and begins to pull away from the sides of your saucepan (about 10 minutes). Stir in 40 g of parmesan cheese until melted and well-combined. Add the egg yolks, one at a time, and stir until thoroughly incorporated. Turn semolina mixture onto a wide, lightly greased baking dish or work surface. Use a wet spatula (or hands) to flatten semolina so it is 1 centimetre thick. Leave to cool completely (about two to three hours).
Preheat oven to 200º C. Use a lightly-greased cookie cutter or drinking glass to cut the set semolina into discs. Arrange the discs so they are slightly inclined and overlapping each other. Top with the remaining 30 g of butter and sprinkle with the remianing 40 g of parmesan. Bake for 20 – 25 minutes or until crisp and browned on top. Remove from oven and leave to rest for 5-10 minutes before serving.