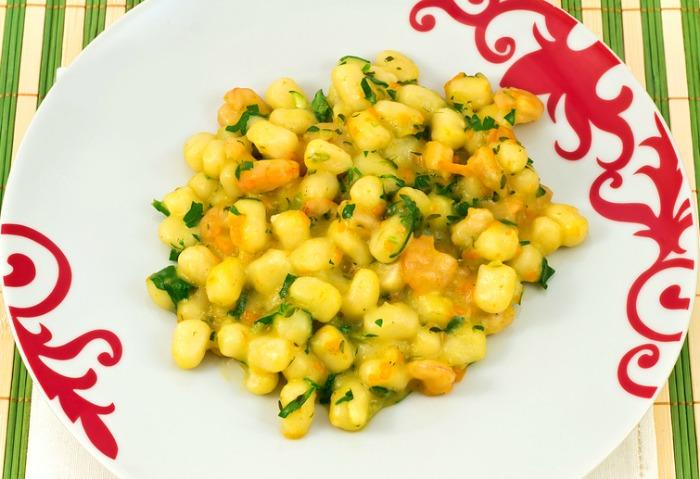 Ingredients
prawns
750 g fresh (weight with shell)
potatoes
1 kg, all roughly the same size
plain flour
400 g, sieved
extra virgin olive oil
4 tbsp
garlic
2 cloves, quartered
cherry tomatoes
8, chopped
Instructions
To make the gnocchi:
Boil the potatoes with their peel until they are cooked. Let them cool slightly, then remove peel using a knife to strip the skin away.
While they are still warm, mash (ideally with a ricer) until they are very smooth, then salt to taste.
Work in the egg, the ricotta cheese and the flour.
Knead lightly until you end up with a pliable dough.
Roll dough into long sausage shapes about the thickness of your thumb and cut into little two cm pillows. (If you like, take a fork, and roll each piece of gnocchi dough along the tines of the fork and off the end to give it the classic gnocchi shape.)
To make the sauce:
Clean and shell the prawns, (leaving four whole for decoration purposes) and chop into pieces.
Heat the oil in a frying pan and add the garlic.
When garlic turns golden brown remove from pan and add tomatoes plus all the prawns.
Sauté for two minutes then, stir in the chopped parsley and add a small glass of water. Leave sauce to reduce. Salt to taste.
Meanwhile, cook the gnocchi in batches in lightly salted simmering water. When gnocchi rise to the surface of the water, cook for another minute or so then drain and add to the frying pan with the sauce.
Toss well together and serve immediately.