Insalata di radicchio, noci e chicci di melograno (Radicchio, walnut and pomegranate seed salad)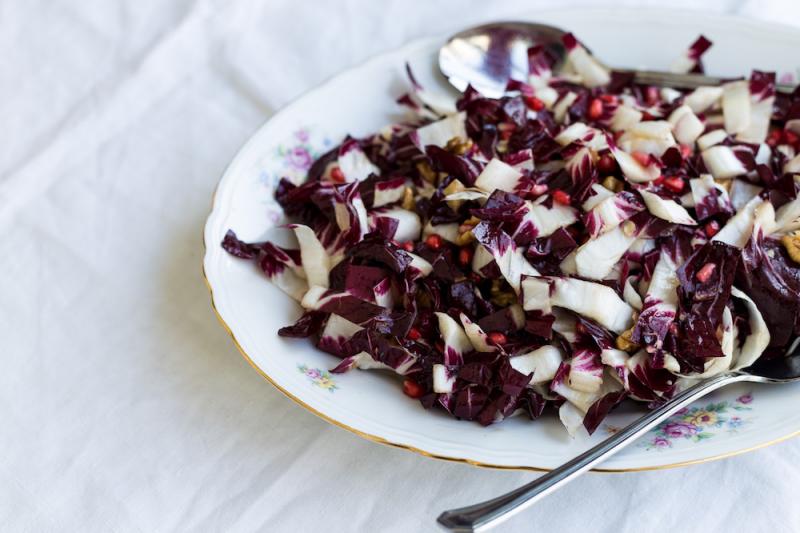 Your eyes are tightly shut. Your mouth, on the other hand, is wide open, ready to curse. It's a common reaction to trying foods or drinks that aren't sweet and leave a distinctly acerbic taste in your mouth.
In Italy, however, chances are that you'll see less lip-puckering and faces screwing up after eating chicory or a drinking a bitter root and plant-infused digestif like Fernet. Amarezza or bitterness has long been a quality prized in the country's food and drink and even young children are not spared the initial shock of not eating something more easily palatable or sweet. In Puglia, their parents know, that in time, they will acquire a taste for the sauteed cicoria or dandelion greens that are often paired with the region's typical fava bean puree. Same goes for the sticks of raw cardi or cardoons which are dipped into Piedmont's infectiously punchy anchovy, garlic and olive oil sauce known as bagna cauda.
In the Veneto, situated in Italy's northeast, locals generally get their bitter fix from a chicory or green that has been subjected to an inbiancamento or blanching technique so it doesn't turn green! Yes, that's right. Those stunning, dark red, white-veined cespi or heads of radicchio gracing market stalls in autumn and winter are actually removed as shoots from the ground and placed in water in darkened sheds where the ensuing lack of light causes them to lose their green pigmentation.  Depending on the variety, these can be cooked in risottos, grilled, sauteed or served in a salad.
Italians know full well that the key to developing a palate for this bitter chicory is to accompany it with a contrasting flavour. Risotto al radicchio, for example, works wonderfully with a soffritto made of finely minced sweet leek or salty pancetta. It's traditional in the Veneto to combine nutty Lamon Borlotti beans (pureed or whole) with radicchio as a side dish to chicken or polenta. And, when served in salads, the  tartness of those variegated Chioggia, Castelfranco or Treviso  leaves is often balanced out by sweet condiments such as balsamic vinegar or seasonal fruits like apple and pear. My current personal favourite pairing, though, would have to be pomegranate seeds. 
I may be subconsciously attracted to the symphony of reds when putting the radicchio leaves and the seeds of a juicy, freshly cut melograno or pomegranate together. Yet, there's no denying that the sweet and sour notes of this spectacularly beautiful fruit soften the bitterness of the white-streaked maroon chicory. Some extra virgin olive oil, salt and homemade mosto cotto or balsamic vinegar are then combined to make the dressing. And, just to ensure things don't go to the other extreme of the taste spectrum (i.e. sweet!), I like to add some sharp, recently harvested walnuts. Autumn on a plate is served!
Ingredients (serves 4 as an appetiser)
Ingredients
radicchio
2 heads radicchio (Treviso, Chioggia and Castelfranco varieties all work well)
walnuts
a handful, shelled and roughly chopped
pomegranates
seeds from 1 small pomegranate
extra virgin olive oil
as needed
balsamic vinegar
(or mosto cotto), as needed
Instructions
Wash and dry the radicchio heads, discarding any outer leaves that appear wilted. Cut or tear remaining leaves into pieces and place in a large mixing bowl.  Add roughly chopped walnuts, pomegranate seeds and set aside.
Combine olive oil, balsamic vinegar and fine sea salt in a jug. Mix and pour over radicchio, walnuts and pomegranate seeds. Toss salad until evenly coated with the dressing. Transfer to salad bowl or large platter and serve immediately.