Involtini di Melanzane - Eggplant Involtini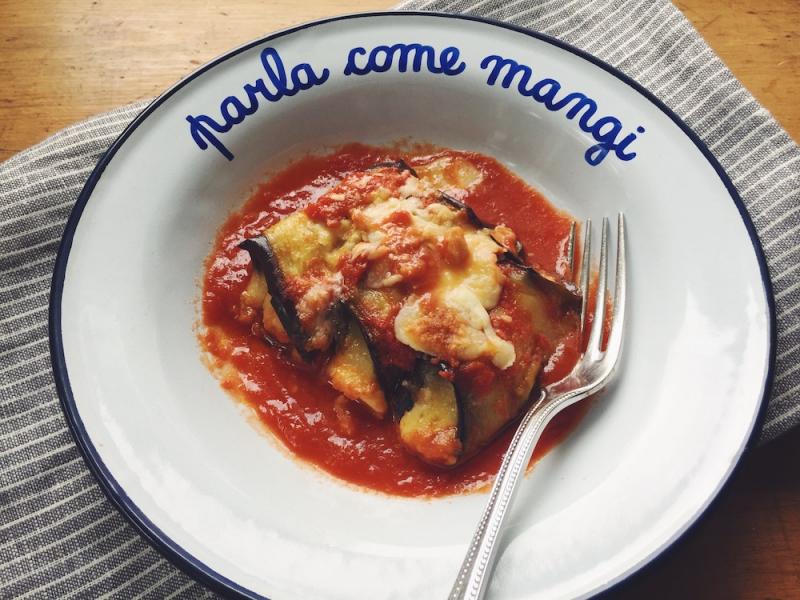 Cooking Time
about 2 hours, 15 minutes, including prep time and baking time
There is magic in eggplant. For centuries, Italians and other Mediterranean cultures have used this vegetable as an economical substitute for meat. Dipped in flour, egg, and breadcrumbs and pan-fried, sliced eggplant does a great job of mimicking veal or chicken cutlets. Layer it in a baking dish with mozzarella cheese and tomato sauce and you have one of the world's favorite comfort foods: eggplant Parmesan.
But now it's summer, so something lighter is in order, and that means involtini di melanzane, or eggplant involtini ~ tender eggplant slices rolled up around cheese and baked in fresh tomato sauce. I learned to make this apptizing dish from my friend Carla Tomasi, who teaches cooking classes at Latteria Studio, in Rome. Many recipes for eggplant involtini call for flouring and frying the slices before stuffing them. Carla's version uses eggplant that has been brushed with olive oil and baked. The result is light, silky slices that are just right for filling with tangy cheese. Be sure to use a good melty cheese, like scamorza or slightly dried mozzarella. Semi-aged pecorino and Asiago are also good choices.
These involtini are versatile and can be served as an appetizer, a side dish, or a vegetarian main course. Serve them hot out of the oven, or let stand until they are just warm.
Yield: 4 main course or 8 appetizer servings
Ingredients
large aubergines (eggplants)
2 large eggplants; 2 pounds (1 kg) total
mozzarella
6 to 8 ounces (170 g to 227 g) mozzarella or scamorza
pecorino
6 to 8 ounces (170 g to 227 g) pecorino fresco, or Asiago fresco; or a combination
Parmigiano Reggiano
3 to 4 oz (85 g to 113 g) freshly grated Parmigiano-Reggiano
tomato sauce
1 1/2 to 2 (355 ml to 473 ml) cups plain tomato sauce, preferably homemade, heated
Instructions
Remove the tops and bottoms from the eggplants. Cut them lengthwise into 1/4-inch-thick (1/2 cm) slices, discarding the two end slices. You should have 8 slices from each eggplant for a total of 16 slices. 
Salt the eggplant slices on both sides and layer them on a paper towel-lined rimmed baking sheet. Let them sit for 1 hour, then pat them dry. 
Heat the oven to 400°F (200°C). Line two rimmed baking sheets with parchment. Brush the eggplant slices on both sides with olive oil and arrange them in a single on the baking sheets, 8 per sheet. Bake for 10 minutes; turn the slices over and bake for 10 minutes more, until they are tender and lightly browned. (You can bake them one sheet at a time, or both sheets at once, on racks placed in the top and center of the oven.) Let the slices cool while you prepare the filling. Reduce the oven heat to 375°F (190°C). 
Cut the scamorza or mozzarella (if using) into small cubes. Shred the pecorino or Asiago on the large holes of a box grater. Combine the cheeses in a bowl and stir in the Parmigiano.
Lightly coat an 8-inch by 11-inch (20 cm by 28 cm) rectangular baking dish with olive oil. Spoon about 1/3 cup of tomato sauce into the bottom of the dish. Place a spoonful of the cheese filling on the wide end of one of the eggplant slices. Roll it up and set it in the baking dish, seam side down. Stuff and roll up the remaining eggplant slices and place them in the dish, taking care to reserve about 1/2 cup of the filling. The involtini should fit snugly in the dish. Spoon the remaining tomato sauce on top of the involtini and top with the remaining cheese.
Bake the involtini, uncovered, for 30 to 40 minutes, until the filling is oozy and the top is browned in spots. Let sit for 5 minutes before serving, and serve hot or warm.