Orange-Almond Biscotti with Campari Cream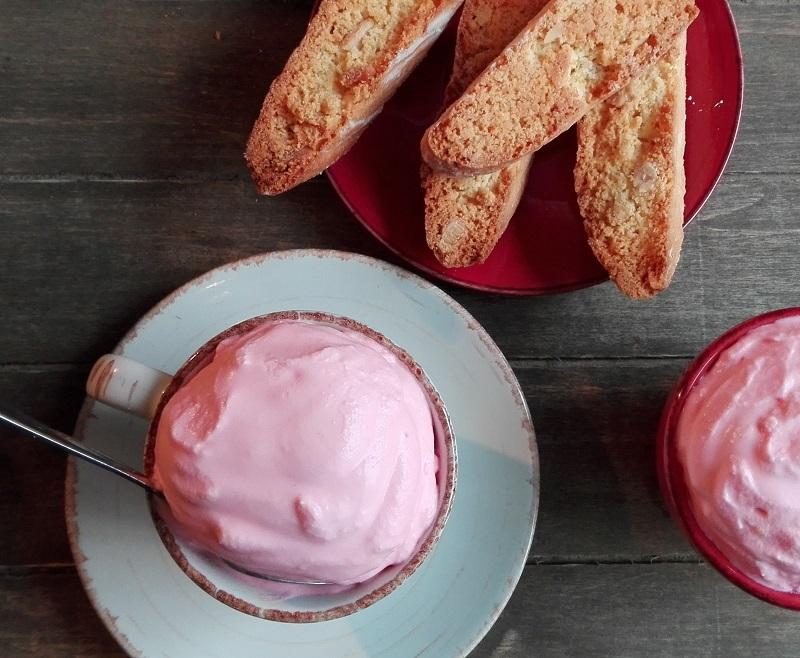 This dessert is a sweet twist on the classic orange-and-Campari flavor combination so popular in drinks like the Negroni, the Americano, and a spritz with Campari.
Ingredients
all purpose flour
1 & ½ cups
orange juice
2 Tbls (fresh)
orange zest
from 2 oranges
almonds
½ cup chopped almonds (not blanched, if possible)
red food coloring
(optional)
Instructions
Make the cookies first.
Preheat the oven to 180 C.  Mix the flour, salt and baking powder together in a medium bowl. In a large bowl, blend the sugar and butter until combined. Add the egg and egg yolk and beat until fluffy and smooth. Add the orange zest, orange juice, liquor, extract and almonds and stir until combined. Slowly add the flour mixture and combine well. You should have a sticky cookie dough.
Cover a baking sheet with parchment paper, dust with flour, and turn the dough out onto the paper. Lightly flour your hands and shape and flatten the dough to about 10-12  inches long, 5 inches wide, and about ¾ inch height (no more than 1 inch). Bake for 20 minutes. Remove and let cool (cooling completely is not necessary, but cool enough to make the next step manageable). Carefully slice into ¾-inch-wide biscotti, slicing at angle. The cookies will be long; halve each cookie if you prefer. Return to the oven for about 10 minutes, or until they are golden and crunchy. Note: biscotti get even harder after cooled. This recipe makes about 10 long cookies or 20 small if you halve them.
Whip the cream with 3 tablespoons sugar. When it starts to thicken, slowly pour in the Campari. Add a few drops of red food coloring if you wish to obtain a color similar to Campari (without it, the cream is more a soft pink color, which is also nice). Keep whipping until you have a very pillowy cream. Set aside.
In a small bain marie, whisk the egg yolk with a teaspoon of sugar and a splash of cream until it turns thick and very silky. Watch the heat carefully while doing this. With such a small amount of egg cream the risk of actually cooking the egg is high. Tips: Don't let the bowl touch the water; do not let the water come to a boil; and whisk continuously. Remove the egg cream from the heat and let cool slightly, then gently fold into the whipped cream. Keep cold until serving. Serve in small dessert cups accompanied by the orange biscotti.