Pallotte Cace e Ove - Cheese and Egg "Meatballs"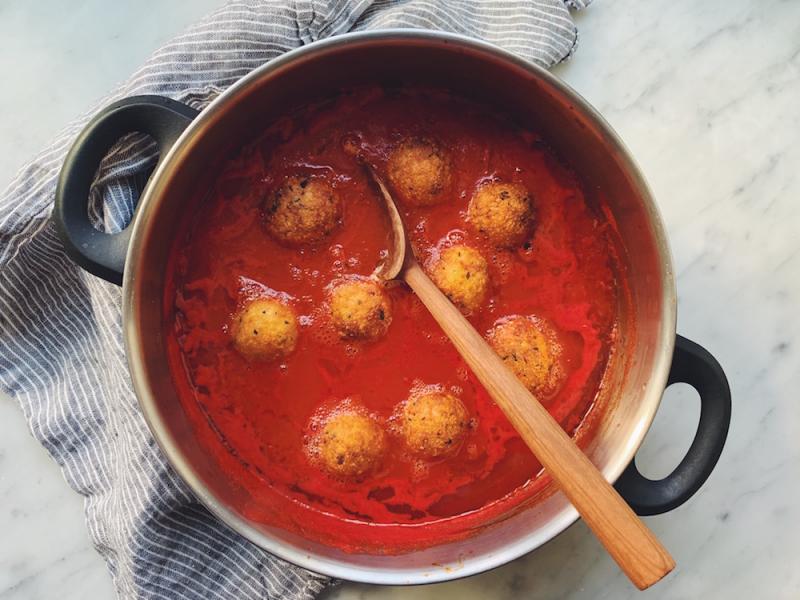 Cooking Time
90 minutes to assemble, fry, and simmer in sauce
One of Abruzzo's more famous examples of "cucina povera" is pallotte cace e ove ~ "polpette cacio e uova" in proper Italian. Which is to say, a meatball that contains no meat. What it does contain is lots of cheese, bound together with bread and egg. The mixture is formed into balls, fried, and then simmered in tomato sauce. Once strictly a home-cooking dish, pallotte have become trendy in the last few years, and you will find them on menus in restaurants across Abruzzo.
This is a good dish to have in your repertoire if you don't eat meat during Lent. But I don't want you to feel hemmed in by season or occasion, as these meatless meatballs are welcome all year round. In fact, I enjoy them most in spring and summer, when traditional meatballs seem heavy but I'm still craving a good "Sunday sauce" type of meal.
The secret to making good pallotte is the ratio of cheese to bread ~ about 2:1. This keeps the pallotte light in texture and extra savory and tangy in flavor. As for the cheese, if you're not familiar with Abruzzo you might not know that it is a land of sheep's milk cheeses; in other words, pecorino. For many generations, the region's economy was tied to raising sheep. In a centuries-old phenomenon known as the 'transumanza,' millions of sheep were herded down to Puglia for the winter, then back up to the green mountains of Abruzzo in summer. Although the ritual is in danger of disappearing, it persists in a few pockets in the mountains. And, thankfully, so does the production of sheep's milk cheeses.
Pecorino Abruzzese has different characteristics than its more common cousin, pecorino Romano. In general, it is semi-hard rather than hard, and less sharp than Romano, though this depends partly on the age of the cheese and on the producer. Don't worry if you can't find it; you can substitute another semi-hard pecorino, such as pecorino Toscano. Or, you can use a mix of pecorino Romano and Parmigiano-Reggiano, or even just pecorino Romano.
To shape pallotte, simply pinch off golf ball-sized pieces of the mixture and roll them into spheres. Fry the pallotte in a neutral oil, such as sunflower oil, then transfer them right into a pot of simple tomato sauce to finish cooking. They will absorb sauce and flavor along the way, making them even more savory and tender. The sauce, in turn, gets a savory boost from the cheese. A win-win recipe, if you ask me, and you won't miss the meat at all.
Yield: 6 servings (3 pallotte per serving)
Ingredients
grated pecorino cheese
225 g (8 oz) grated Pecorino cheese, preferably a mix of pecorino Abruzzese and pecorino Romano, or a mix of Romano and Parmigiano-Reggiano, plus more for serving
breadcrumbs
115 g (4 oz; 2 cups) fresh breadcrumbs (see COOK'S NOTE)
eggs
4 large or 6 medium eggs, lightly beaten
garlic
2 small cloves, minced
Fresh parsley
2 tablespoons minced fresh flat-leaf parsley
tomato sauce
1 1/2 L (1 1/2 qts), heated to a simmer
Instructions
1. Combine the cheese, breadcrumbs, eggs, garlic, and parsley in a bowl and mix thoroughly. Form the mixture into golf-size balls and set them on a wax paper-lined tray. You should end up with 18, weighing about 30 g (1 oz) apiece. Refrigerate for 30 minutes.
In a deep skillet or sauté pan, heat 5 cm (2 in) sunflower oil to 190° C (375° F). Line a plate or baking sheet with paper towels. Fry the pallotte, in batches, for 1 to 2 minutes, until golden brown, turning them as they cook for even browning. Transfer them with a slotted spoon or skimmer to the paper towel-lined plate to drain briefly. Then transfer them to the pot of tomato sauce and simmer gently for 20 minutes, until heated through. 
Serve the pallotte and sauce in shallow bowls, with grated Pecorino for sprinkling on top. 
COOK'S NOTE
To make fresh bread crumbs, cut the crusts of day-old Italian country bread and weigh out 4 ounces. Cut or tear the bread into chunks and pulse it in a food processor until it turns to crumbs. Don't over-process, as the crumbs should be airy, not dense.