Pandiramerino (Rosemary and Sultana Buns)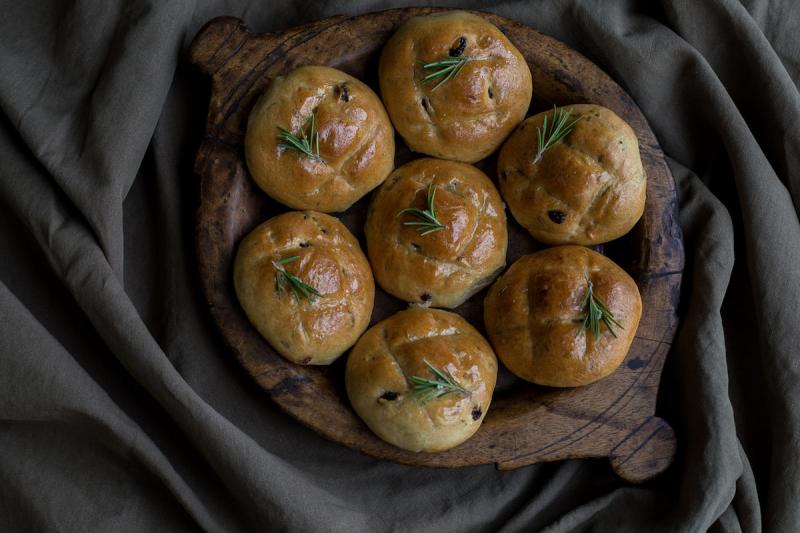 Lent or, as it's called in Italian, La Quaresima. Traditionally in Italy, after the excesses of Carnival, this forty day period entailed an abstinence from fleshy pleasures imposed by nature and the Catholic Church. Food supplies during the passage from winter to spring were at their scarcest. The Church prohibited the consumption of meat and many other animal-derived products.  Yet, Italians across the peninsula were still ingenious enough to create sweets that wouldn't raise prying, observant eyebrows or exhaust the precious larder by making them without egg yolks, butter or lard.
There were the normally butter-based maritozzi Romans made with olive oil, for example. Tuscans too came up with delightful chocolate and orange-scented quaresimali, letter-shaped biscuits said to symbolise the scriptures from the Gospel. These were bound by egg whites, considered magri or 'lean' and therefore permissable to eat. Elsewhere, in other regions, people made more egg white-bound biscuits, named pazientini – meaning 'little bits of patience' – perhaps as a nod to the patience and strong will required during Lent.
My favourite of all these Lenten sweets, however, would have to be Florentine pandiramerino, which I tried while lost and looking for the bus station near Santa Maria Novella last spring. Made with an olive oil-enrichened bread dough and studded with fresh rosemary and sweet sultanas, these delightfully sticky, criss-crossed buns were traditionally served on giovedì santo or Holy Thursday in the Renaissance city.
Like many other Italian treats that were originally made on designated feast days,  pandiramerino are now available in Florentine bakeries year round. After trying one  near the elusive bus station last year though, I promised myself I would try making them at home in the lead up to the following Easter. Sure enough, that contrast  of sweet and savoury flavours also won over my husband and daughter, especially at breakfast and afternoon tea time. They kept asking me to make them more buns and I readily obliged. Here's a recipe - adapted from one by Emiko Davies in her stunning cookbook Florentine - I've come up with after many an excuse to turn the oven on.
Ingredients (makes 8 buns)
Ingredients
fresh yeast
12-15 g fresh yeast (or 5 g active dried yeast)
bread flour
150 g sifted strong bread flour
flour
150 g sifted plain (preferably stone-milled) flour, plus extra for dusting
vin santo
for soaking sultanas
fresh rosemary
2 fresh rosemary sprigs, finely chopped
extra virgin olive oil
60 ml extra virgin olive oil, plus extra for greasing
sugar (for hot syrup)
55 g
water (for hot syrup)
40 mL
Instructions
Pour tepid water in a large mixing bowl and add yeast and sugar. Stir and leave to sit  until the yeast dissolves and foam rises to the surface (about 10 minutes). Add the flours and mix until the ingredients come together as a dough. Roll into a ball, score the dough with a cross on top and place in a large, lightly-greased bowl. Cover with plastic wrap and leave to rise in warm place away from draughts until doubled in size (about 1 – 2 hours).
In the meantime, soak the sultanas in just enough vin santo and the finely chopped rosemary and pinch of salt in the olive oil. Set aside to soak and infuse until the dough has risen.
Drain sultanas of excess liquid, and along with the rosemary, oil and salt, combine with the dough. Knead until all the oil has been absorbed and the rosemary and sultanas are evenly distributed throughout the dough. Transfer dough to a lightly dusted work surface and divide into eight small balls, weighing about 80 - 85 g each. Place the buns on a lined baking tray and cover loosely with a tea-towel. Leave to prove for another half an hour.
Preheat oven to 200 °C.
Brush the tops with olive oil and slash a noughts-and-crosses grid over each one with a sharp knife or razor. Prove for another 10-15 minutes, then bake in the oven for 20 minutes.
Meanwhile, prepare the hot syrup. Place sugar and water in a small saucepan and bring to boil.  Remove from heat once all the sugar has dissolved and brush the hot-out-of- the-oven buns with the hot syrup.
These sticky buns are best eaten on the day they're made. They do keep well though for up to two days in an airtight container. Serve them as treat for afternoon tea or as part of a sweet, Italian-style breakfast. Buon appetito e buona pasqua!