Panelle Siciliane (Sicilian Chickpea Fritters)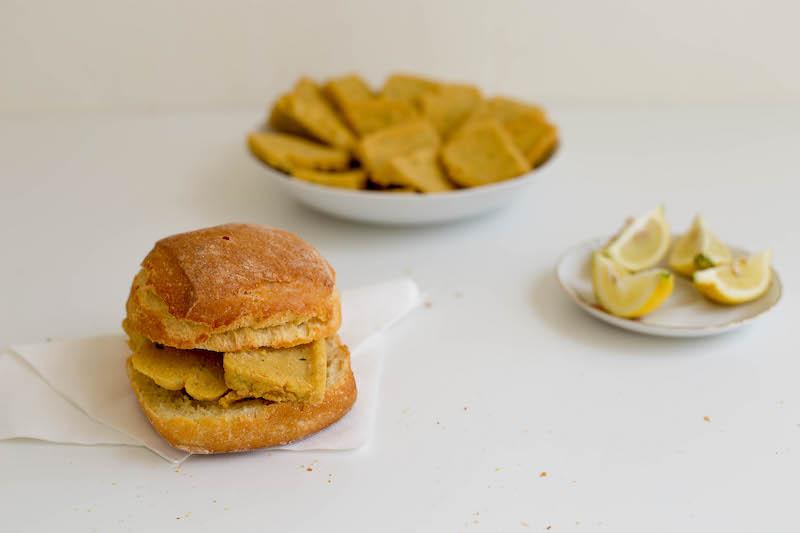 Cooking Time
1 hour 30 minutes
A visit to Palermo would not be complete without sampling from the  variety of fried foods made in one of the city's friggitorie or fry-shops. Cibo da strada or street food has existed since ancient times and Sicily's capital is noted for deep fried delights such as cazzilli (potato croquettes), quaglie (eggplant quails) and panelle (chickpea fritters) which have been made to satisfy the hunger pangs of passers-by for centuries.
Of these, panelle, often served in the sesame-seed sprinkled durum wheat rolls typical of the region, are particularly filling. One of a handful of Italian specialties calling for chickpea flour, these crisp, rectangular fritters appear to have originated during the period of Arab rule from the 9th to 11th centuries on the island. Luckily for those of us who can't walk the streets of Palermo, panelle or paneddi (as the Sicilians are fond of calling them in their dialect) are also easy to make at home and require very few ingredients: chickpea flour, water, salt, pepper and finely chopped parsley. And, without even meaning to be so, they're also completely gluten-free (assuming you don't eat them in a panino) and vegan!
Ingredients
Fresh parsley
A handful, finely chopped
vegetable oil
for frying and greasing
freshly ground black pepper
Instructions
Bring water to boil in a saucepan. Lower heat and add chickpea flour in a slow and steady stream. Add parsley, salt and pepper. Stir constantly to avoid the formation of lumps and cook over low-medium heat for 15 minutes or until chickpea mixture has thickened and starts to inch itself away from the sides of your saucepan.
Pour mixture onto a lightly-oiled surface. Spread mixture out into a sheet with a thickness of no more than 6mm (1/4 inch). Leave to cool for at least an hour and cut into rectangles.
Alternatively, pour mixture into a lightly-oiled loaf-shaped container. Leave to cool for at least an hour, turn container upside down, remove container and slice the resulting loaf into thin slices with a sharp knife or cooking string held tautly.
Heat enough vegetable oil in a saucepan for deep-frying until the temperature is 170 degrees. Fry four panelle at a time for 1 and a half minutes or until evenly crisp and golden brown. Remove panelle with a slotted spoon onto a plate covered with absorbent paper towels. Serve hot in a panino as a snack or as an antipasto alongside some lemon wedges.