Panzanella al Mare, Bread Salad with Seafood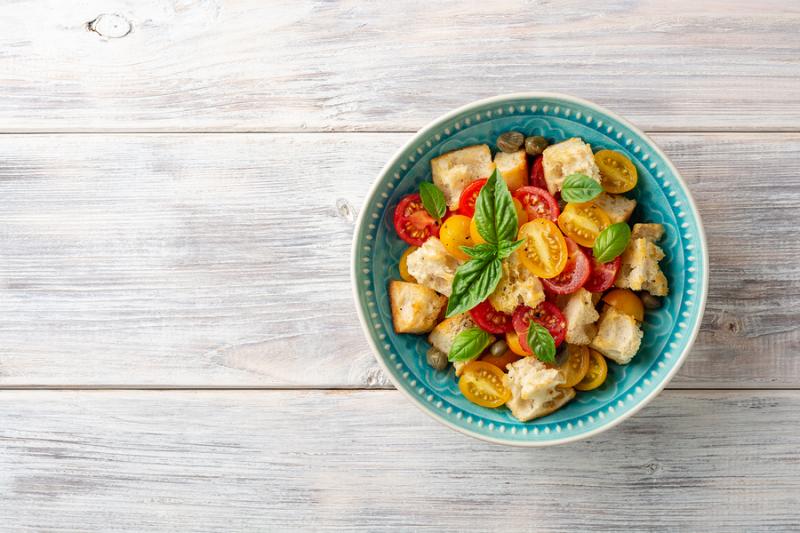 Panzanella, Tuscan bread and tomato salad, is another dish like bean and veggie ribollita soup and pappa al pomodoro, tomato bread soup that's inspired by stale bread. An early version of panzanella, called pan lavato "washed bread" made with water-soaked bread and assorted vegetables, but without New World tomatoes, was mentioned by 14th century Florentine author Giovanni Boccaccio in Il Decameron.
Michelin-star chef Riccardo Agostini of Il Piastrino in Emilia-Romagna created a seafood-version of traditional Tuscan panzanella for Rimini's yearly Al Méni artisan food festival. To a base of large bread chunks soaked in white wine vinegar and water, he adds aromatic roasted and raw tomatoes, morsels of eel and pickled vegetable giandinera, topped with olive oil and a drizzle of basil pesto. Although Chef Agostini uses a particularly flavorful eel from Comacchio, in Emilia-Romagna, he suggests substituting your favorite fish instead, noting, "This dish is particularly wonderful with yellow fin tuna."
Chef Agostini sprinkles on a special salt from Cervia, a small town in Emilia-Romagna's Adriatic coast, called sale dolce—sweet salt—because its absence of bitter minerals and the purity of its sodium chloride make it naturally more "sweet" than other sea salts.  It is carefully harvested and naturally dried, so it maintains its natural humidity with no additives.  It's also nicknamed "Pope's salt" because of the tradition of taking the first harvest to the Pope in Rome each year.  
Serves 4 
Ingredients
cherry tomatoes
Rainbow cherry tomatoes, cut in half. 1 pint
crusty bread
Good quality crusty bread, thickly sliced and toasted, ½ pound
white wine vinegar
2 tablespoons
fish
Pickled eel or your favorite pickled, smoked or grilled fish, 10 ounces
giardiniera
Italian mixed pickled vegetables, 8 ounces
fresh herbs
Assorted fresh herbs, such as basil, parsley, and rosemary, 2 ounces
extra virgin olive oil
3 tablespoons or to taste
sea salt
preferably Sale di Cervia, to taste
pesto
3 tablespoons or to taste
Instructions
Preheat oven to 350 degrees F. Spread half of the pint of cherry tomatoes on a baking pan and roast for 45 minutes. Reserve.
Meantime cut the bread into large chunks and drizzle the vinegar and ½ cup water. Let soak until absorbed, about 15 minutes. Gently squeeze out any excess liquid.
In a large serving bowl, combine the bread, roasted and raw tomatoes, eel, giardiniera, herbs and olive oil. Toss to combine. Divide between 4 bowls and serve topped with bit of sea salt and drizzle of pesto.
Recipe courtesy of Chef Riccardo Agostini of Il Piastrino Ristorante.