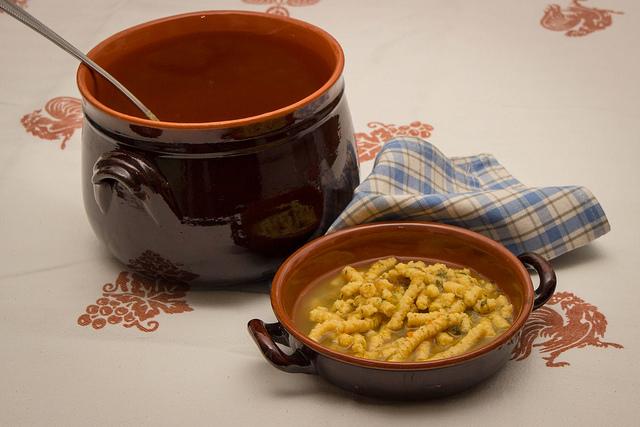 Photo courtesy of © Tamara Mambelli
Passatelli are a traditional recipe from Romagna; they are little cylinders (roughly 4 mm thick and 4 cm long) prepared with a mixture of bread crumbs, Parmesan cheese, eggs, nutmeg and lemon zest.
Passatelli are prepared using a special tool which is a slightly domed metal disc with a diameter of 15 cm, with 4-5 mm wide holes with a dumbbell and two side handles.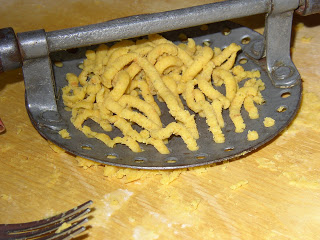 This tool is placed over a ball of dough and then pressed on top of it so that the 'passatelli' can protrude through the holes. They  are then cut with a knife to the length of around 4 cm, ready to be cooked in a rich broth. As an alternative to the traditional 'passatelli tool',  you can use a potato masher with large holes.
Ingredients
grated Parmesan cheese
120 gr
Instructions
Prepare a rich beef or chicken broth with a stalk of celery, a small onion, a carrot and a tomato.  
Beat the eggs  with a fork and add the grated Parmesan cheese, the bread crumbs, a pinch of salt, nutmeg, pepper and the lemon zest.
Mix the ingredients until the mixture is firm but elastic (if it is too hard and dry, add a little broth to soften it). Set aside to rest in a tea towel for 5 minutes, then take a bit of dough at a time and either use the passatelli tool to make them or pass the dough through a masher using the disk with large holes.
Cut with a knife once the passatelli are about 4 cm long and spread them on a clean tea towel without overlapping them.
Bring the broth to a boil and pour in the passatelli. When they start to float to the surface take them out and put them in a bowl and add some broth. Serve them with grated Parmesan cheese on top.