Pasta with Figs and Roasted Eggplant: Pantacce con Fichi e Melanzane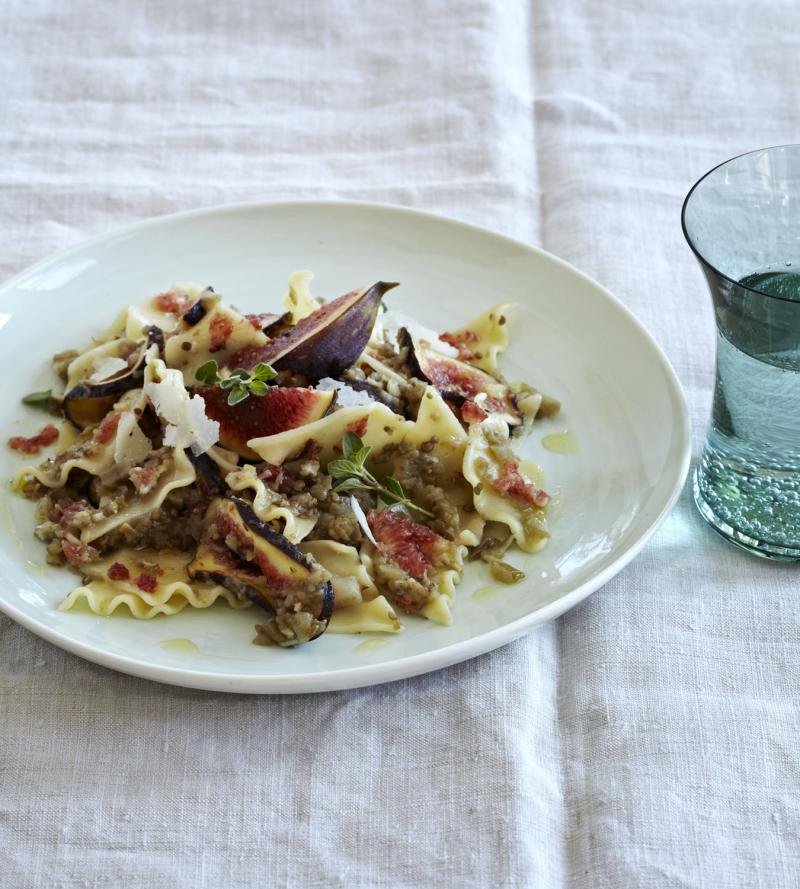 Cooking Time
1 hour and 20 minutes
Just a few ingredients, yet exceptional rich flavor. Perfect for late summer when figs are at their best.
Figs are a popular Italian fruit, eaten raw or cooked. They are used in both sweet and savory dishes. In this pasta dish there's a lovely play between sweet and bitter, underscoring why eggplant and figs make such an extraordinary pairing. The eggplant is baked or grilled whole, then mashed with garlic, oregano, olive oil and figs. The resulting smoky, sweet, creamy mix is tossed with pasta and garnished with more figs. 
  
You can enjoy this dazzling dish all year long by substituting dried figs, if fresh aren't available. Just steep them in hot wine until tender, drain, then follow the directions as with fresh. I especially like this dish with pantacce, a pasta shape that look like miniature curl-edged lasagna sheets, but this sauce is terrific with any shape.
Serves 4
 
Ingredients Sections
Eggplant: 2, about 1 pound each
Salt and pepper: To taste
Pantacce, or any shape pasta: 1 pound
Garlic: 2 cloves, minced
Fresh oregano: 4 fresh springs, plus more for garnish
Olive oil: 4 tablespoons, plus more to taste
Figs: 8
Aged pecorino cheese: To taste
Instructions
Preheat the oven to 350 F/176 C or heat grill, if using.
Bake the whole unpeeled eggplants on a baking sheet for about an hour, or grill, until very soft and collapsed. Scoop out the flesh, removing any seeds, and press it through a food mill or puree in a food processor until very smooth, and season to taste with salt and freshly ground black pepper.
Cook the pasta in salted water until al dente. 
Meanwhile, warm the garlic and oregano sprigs in olive oil for a few minutes until fragrant, then discard the oregano. Stir in the eggplant. Thinly slice 4 of the figs and add to the eggplant. Cut the remaining figs into quarters and reserve for garnish.
Drain the pasta and toss into the eggplant along with grated pecorino to taste.  Top with a drizzle of olive oil, the reserved fig sections, and sprigs of oregano. Garnish with more shaved pecorino, if you like.