Pasta with Plums & Artichokes: Pasta con Prugne & Carciofi
Pasta has been paired with fruit in Italy since the Renaissance. This recipe is the perfect sweet and savory combination. Artichokes, which are slightly bitter, are nicely balanced by the summer-ripe plums.  The touch of sage, which has nice balsamic notes, adds brightness. Plus, it's ready in 15 minutes or less: by the time the pasta is al dente, the sauce is ready. Italy's version of "fast food"!
This dish from Puglia is typically served with incannulate---gorgeously long, wide ribbons of pasta that are folded over and then twirled around themselves. This must-try specialty shape of is available dried in Italy and the States or you can make your own. See instructions below. Of course, this delicious sauce is superb with any pasta shape!
Serves 4
 
Ingredients
Baby artichokes: 8
Olive oil: 6 tablespoons
Small red onion, 1, thinly sliced
Garlic: 2 cloves, minced
Plums: 6, thinly sliced
Fresh sage leaves: 12
White wine: 1/3 cup
Incannulate (see recipe below) or any long pasta, 1 pound
Salt and black pepper: To taste
Lemon, Zest of 1 lemon, cut into long strips
For the pasta
All-purpose or 0 flour: 2 cups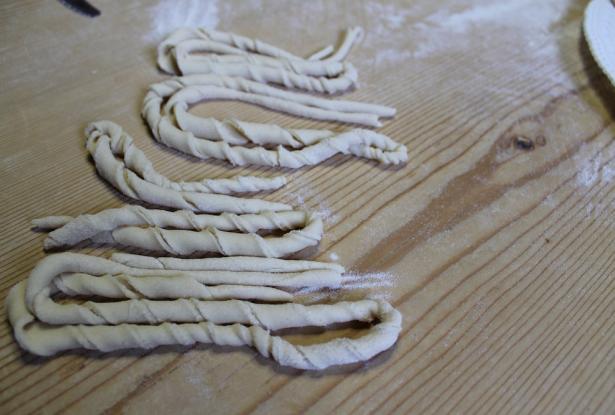 Preparation
Cut off the top 1/2 inch of the artichokes, discard, and slice the remainder paper-thin. Fry the artichokes in 6 tablespoons of oil on high heat in a large frying pan until crisp. Remove from the pan and drain on a paper towel. Lower the heat, add the onion and garlic to the same pan and sauté until the onions are soft, about 5 minutes. Add the prunes, sage, and white wine. Cover and simmer for 5 minutes. 
Cook the pasta in salted boiling water for 2 minutes less than indicated on the package. Drain and finish cooking in the sauce, adding a few tablespoons of the pasta cooking liquid as needed. Stir in the fried artichokes, and season with salt and pepper to taste.
Serve topped with long strips of lemon zest.
Pasta Instructions 
Put the flour onto a work surface. Make a well in the center and add 1/4 cup warm water. Using a fork, slowly incorporate the flour into the water, starting from the center, until dough forms. Add a few additional tablespoons of water at a time as needed, until you've incorporated in all the flour. Knead until smooth, about 8 minutes, then form into a ball Let rest, covered in plastic, for 30 minutes. 
Roll out the dough into a large circle about 1/8 inch thick. Cut into strips 3/4 inches wide. Hold one end of the strip with one hand and twirl the other end with your other hand, like you are winding a watch, then gently pinch both ends to keep them from uncurling. Double over loosely, forming a "u," and set out onto a cotton cloth or floured surface. Repeat using the rest of the dough.