Pici con le briciole (Pici with breadcrumbs)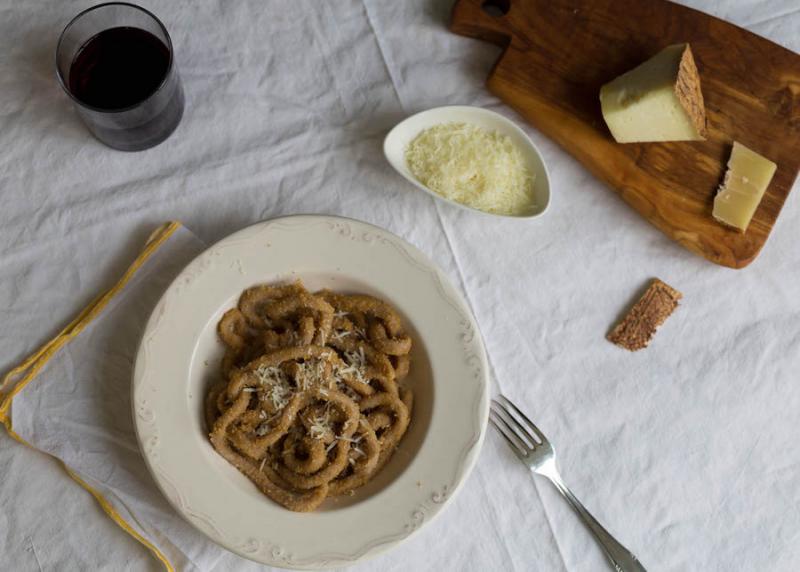 Simplicity is a very underrated quality when it comes to recipes and cooking. Certainly, food trends come and go but they almost invariably include recipes with a ridiculously long  list of ingredients to source as well as cumbersome kitchen gadgetry to make them. What if I told you though that it's possible to make a variety of fresh pasta with your basic pantry staples and no special equipment whatsoever? Well, it's true!
Made with just flour, water, salt and olive oil, handrolled Tuscan pici are the ideal fresh pasta for beginners to make at home. Of humble origins, peasants in the countryside around Siena traditionally ate these wonderfully long and irregular-shaped noodles with a simple garlic sauce or, in that typically thrifty Tuscan way of using leftover bread, con le briciole (fried breadcrumbs). Once upon a time, only the wealthy could afford to prepare the dough with eggs and serve them with richer, meat-based sauces such as nana (a duck ragù).
These days, you'll also find pici served with a garlicky tomato sauce known as all'aglione, or with a cheesy cacio e pepe.  I'm particularly fond though of that parsimonious condiment from less abundant times, le briciole or breadcrumbs. Not only is the flavour of the breadcrumbs exhalted by the olive oil and garlic they are toasted in but it also means I can do something with that day old pane idling around in my bread basket. Truly a kitchen pantry dish.
Ingredients (serves 4 as a starter)
Ingredients
flour
500g stonemilled flour, plus extra for dusting
semolina flour
Coarse semolina or polenta flour, for coating
extra virgin olive oil
3 tbsp olive oil
breadcrumbs
150g coarse, homemade breadcrumbs
freshly ground black pepper
to taste
Instructions
Pour water in a large mixing bowl. Add olive oil and salt. Start adding flour in slow, steady stream using a fork or wooden spoon to bring the ingredients together. Transfer to a clean, lightly dusted work surface. Knead the dough until smooth. Leave the dough to rest for at least half an hour, covered by the mixing bowl.
Roll out the dough to a thickness of about half a centimetre. Brush the top of the rolled out dough with olive oil to prevent it from drying.  Cut the dough into strips about half a centimetre wide. Roll the flat strips from the centre outwards, until you have long noodles slightly thicker than spaghetti strands. Coat inside a bowl containing semolina or polenta flour and arrange into nests on a tray or wooden board.
To prepare the breadcrumbs, heat the olive oil in a pan with a clove of garlic. Add the breadcrumbs and fry until golden brown. Season with salt and pepper to taste. Set aside.
Cook the pici in salted boiling water for 5-6 minutes. Drain and serve tossed with the toasted breadcrumbs and some freshly grated pecorino cheese.