Risotto with Barolo, Radicchio and Fontina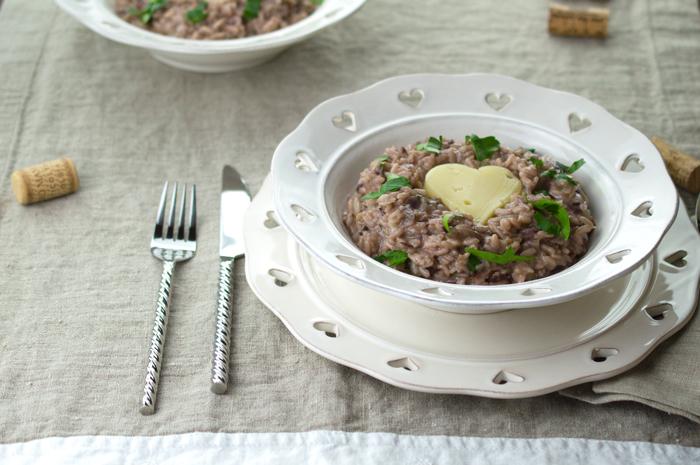 Barolo is a red wine produced in Piedmont, a region in northern Italy. Made with 100% Nebbiolo grapes, Barolo is considered to be one of Italy's greatest wines.  It often has an intense ruby red color with aromas of dried flowers, ripe red fruits and spices. Its long finish and good structure make it a perfect wine to enhance classic Italian dishes, like risotto.
Ingredients
extra virgin olive oil
3 tablespoons
Red onion
1 medium (finally chopped)
carnaroli rice
1¾ cup (300g)
red wine
1½ cups Barolo (or a good red wine)
vegetable stock
4 cups (33 ounces, 1 liter)
radicchio
½ head of radicchio (also called Italian chicory), finely chopped
fontina
3.5 ounces (100g) fontina, cut out hearts with a cookie cutter (optional) and cut the rest of the cheese in cubes
Parmigiano Reggiano cheese
¾ cup (35g) grated
butter
3 tablespoons (43g)
black pepper
Freshly cracked black pepper, to taste
Instructions
Heat the extra virgin olive oil in a medium skillet, add the onions and cook over medium-low heat until translucent, but not brown. Add the radicchio; cook for 5 minutes.
Pour in the rice and toast for 1 minute.  Add 1 cup wine and simmer until the rice has absorbed the wine then add a ladle of vegetable broth. Continue to add a ladle of vegetable stock, one at a time, while stirring occasionally with a wooden spoon.  Always let the rice absorb the liquid before adding more. You may or may not use all of the stock.
Around 18-20 minutes of cooking, the rice should be "al dente" or "firm when bitten". At this point, stir in the remaining ½ cup of Barolo wine, Parmigiano Reggiano cheese, butter and fontina cubes.
Season with salt and freshly cracked black pepper and top with the fontina cheese heart (optional) and parsley. Buon appetito!