Risotto with Pumpkin, Balsamic Vinegar of Modena IGP and Hazelnuts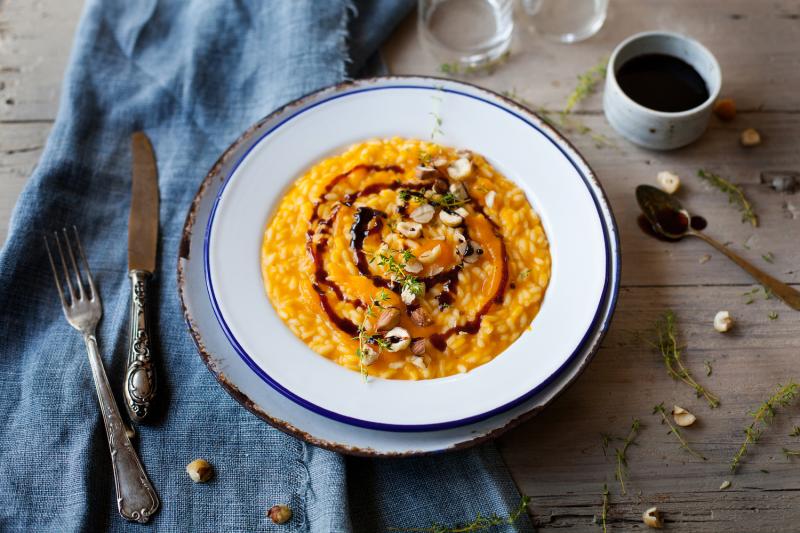 Rice has been produced in Italy since at least the Middle Ages with recipes for various rice dishes found in Italian cookbooks from the 14th century on. Bartolomeo Scappi, famed Renaissance chef to Pope Pius IV, wrote about a "rice dish in the Lombardy style" in his 1570 cookbook Opera dell'arte del Cucinare which was savory-sweet layers of rice, cheese, sugar, cinnamon, sausage and capon. "Risotto alla Milanese" was first written about in Felice Luraschi's Nuovo Cuoco Milanese Economico in 1829. 
Despite the fact that Italy is Europe's largest rice producer, Italians do not consume much rice.  Risotto is mainly a northern Italian dish. Although records suggest that rice was first cultivated around Naples, today its production is mainly found in Lombardy and Piedmont. 
In this recipe, risotto is cooked with creamy pumpkin and topped with crunchy hazelnuts and Aceto Balsamico di Modena IGP, which adds just the perfect hint of acidity and sweetness. Aceto Balsamico receives IGP (Indicazione Georgrafica Protetta) status because its quality is linked to the place where it is produced in Emilia-Romagna. Aceto Basamico is made with grape juice and must from select local grapes and then aged in wooden barrels for a minimum of three years.
Serves 4
 
Ingredients
Pumpkin, 12 ounces, peeled, seeded and cut into cubes 
Salt, To taste
Yellow onion: ¼ large onion, finely minced 
Olive oil: 1 ½ tablespoons 
Carnaroli rice: 12 ounces
Vegetable stock: 4 to 5 cups, hot
Butter: 2 tablespoons
Parmigiano Reggiano cheese, 1 ounce, grated 
Pepper: To taste
Hazelnuts: 2 ounces, toasted and chopped
Balsamic Vinegar of Modena IGP: To taste
Fresh thyme: To taste
Preparation
Simmer the pumpkin in a cup of water with a pinch of salt until soft. Puree in a blender or with a hand held mixer. Reserve.
Brown the onions in oil in a risotto casserole or large saucepan. Add the rice and stir for a few minutes until the rice is slightly toasted. Add enough hot stock to cover the rice.  As soon as the stock is absorbed add more, a ladleful at a time, alternating with tablespoons of pumpkin puree.  Cook until the rice is tender, but still firm, approximately 15-18 minutes.
Remove from the heat and stir in the butter and Parmigiano Reggiano cheese. Season to taste with salt and pepper.
Serve topped with chopped hazelnuts, a drizzle of aceto balsamico di Modena igp and a sprinkling of fresh thyme. 
Recipe and photo courtesy of the Aceto Balsamico di Modena Consortium.