Rockfish with a Simple Tomato and Basil Sauce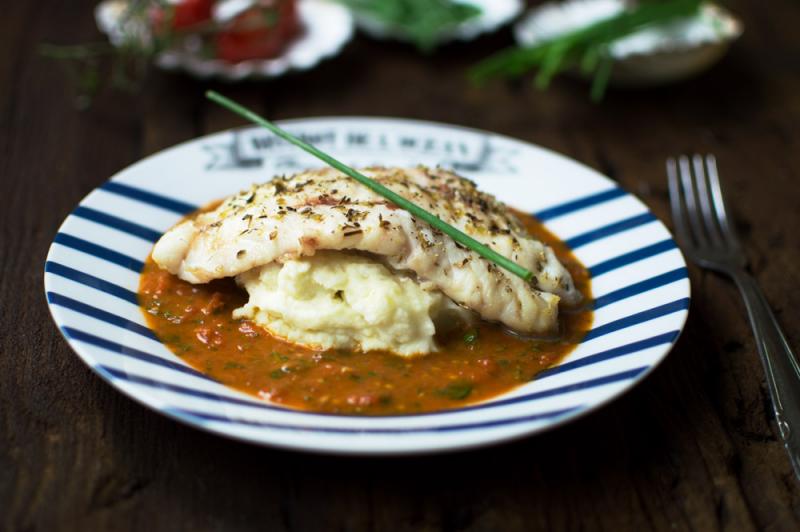 If you have ever traveled to Italy, you may have wondered why the food tastes so darn good. Each dish seems to explode with flavor leaving your taste buds in food paradise. What is the secret to these delicious Italian dishes?  Simple recipes that use quality seasonal ingredients. 
This recipe for scorfano con sugo di pomodoro e basilico or "rockfish with tomato and basil sauce", for instance, takes just 15 minutes to prepare while using only a handful of ingredients like sweet datterini tomatoes, aromatic basil and a splash of lemon for a fresh finishing touch. 
Rockfish is commonly used in Italian recipes and prepared in a variety of ways: alla griglia(grilled), in umido(stew) or in forno (baked). One of the main disadvantages of this fish is that there are many bones, so for easy cooking and eating, be sure to ask your fishmonger for boneless fish fillets and double-check that all of the bones have been removed. 
Serves: 2
Ingredients
rockfish
2 rockfish fillets (total weight: 8.5oz )
dried oregano
A few dashes
sea salt
A pinch of sea salt and a few grinds of black pepper
extra virgin olive oil
A drizzle
datterini tomatoes
7.5 ounces
fresh basil
A handful (roughly .35oz)
fresh lemon juice
Juice of 1/4 medium lemon
Instructions
Preheat the oven to 350°C. Line a baking sheet with parchment paper. 
Put the rockfish fillets on the baking sheet. Sprinkle with dried oregano, salt, black pepper and a good drizzle of extra virgin olive oil. Bake for 10-12 minutes or until the fish easily flakes when pricked with a fork. 
In the meantime, add the tomatoes, basil, lemon juice and salt to a container. Use a hand immersion mixer to blend the ingredients together. Adjust the flavor with salt or basil to taste. Put the sauce in the freezer until the fish is ready. 
Serve the fish with the cooled sauce and a side of mashed potatoes, if desired.