Sagne e Ceci: Abruzzese Pasta with Chickpeas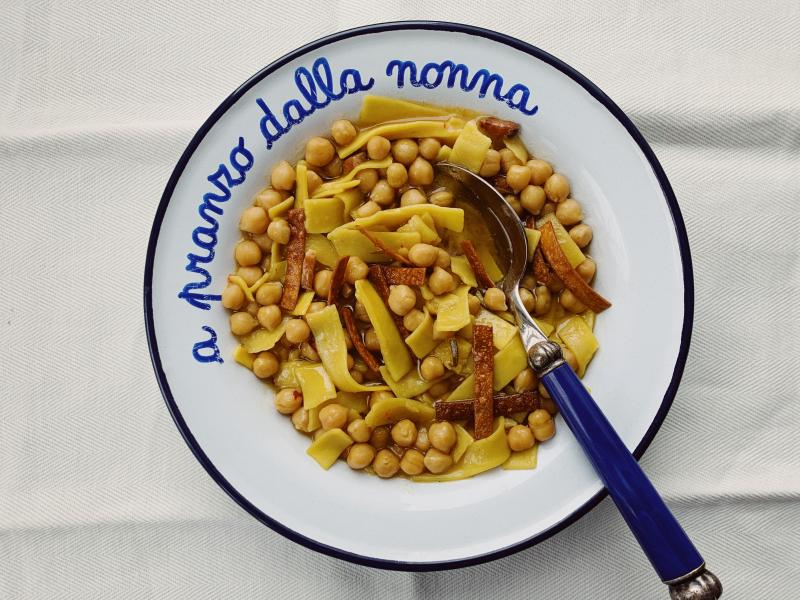 Cooking Time
1 hour 30 minutes, including time to make the pasta; plus overnight soaking and cooking time for the chickpeas
The Navelli Plain, in Abruzzo's Aquila province, is famous for its chickpeas, cultivated in neat plots. The legumes are small and dense, rich in nutrients and in flavor. They form the base for this country-style soup, a humble but delicious dish that uses not only the chickpeas but also their cooking liquid, leaving nothing to waste. The word 'sagne refers to the shape of the pasta traditionally added to the soup—small, short lengths made with semolina flour and water and no egg. 
'Sagne e ceci is typically flavored with dried chile pepper and sometimes dried sweet pepper, a staple in Abruzzese cuisine. I add bay leaf and rosemary for a little perfume, as well as a pinch of saffron. The latter sounds like a splurge since saffron is so expensive and this is the humblest of dishes. However, it makes sense once you know that the Navelli plain is also famous for its saffron, a spice that has been cultivated here for centuries. If you visit the area in late fall, you'll see rectangular fields flush with the purple blooms of the Crocus sativus plant.
The flowers are harvested at daybreak, and the stigmas carefully plucked by hand from the blossom centers. The delicate red-gold threads are dried over low heat to yield Abruzzo's precious "oro rosso" (red gold). The saffron, which I add to the pasta dough itself, transforms this simple soup into something special.
Yield: 4 to 6 servings
Ingredients
1 cup (200 g), dried chickpeas
1 1/3 cups (200 g), semola rimacinata (semolina flour), plus more for dusting
1/2 to 2/3 cup (120to 150 g) warm water
Pinch of salt
1/4 teaspoon saffron threads, pounded to a powder (optional)
4 tablespoons (500 g) extra-virgin olive oil, plus more for frying the 'sagne garnish and for drizzling
1 clove garlic, lightly crushed
2 ounces (57 g) minced pancetta
1 peperoncino, crumbled
1 dried sweet pepper, crumbled (optional)
1 bay leaf
1 small branch rosemary
Water or broth (chicken or fish), as needed
Instructions
1. Soak the chickpeas overnight in water to cover by several inches. 
2. Make the pasta: Pour the semolina flour onto a clean work surface and make a well in the center. Pour the warm water into the well and add the salt and pounded saffron. Whisk gently with a fork to dissolve the saffron in the water. Begin to incorporate flour as you mix, pulling it from the inside walls of the mound. Continue to incorporate flour until you have a ball of dough with a firm, supple consistency. Knead for several minutes, until smooth. Cover with a clean towel or bowl and let rest for 30 minutes. Use a pasta machine or pasta rolling pin to stretch the dough to a thickness of about 1/8 inch (3 to 4 mm). Then, with a knife or pastry cutter, cut the dough sheets into short, flat lengths about 1/2- by 1 1/2-inches (1- by 5-cm) in size. Spread the 'sagne on a clean kitchen towel or tablecloth generously sprinkled with semolina flour.
3. Drain the soaked chickpeas and put them in a pot with water to cover by at least 2 inches (5 cm). Bring to a boil over medium-high heat; lower the heat to maintain a gentle simmer and cook for about 1 1/2 hours, until the chickpeas are tender. Skim any foam that rises to the surface during cooking. Season with salt during the last 30 minutes of cooking. Remove from the heat and let cool 10 minutes. Drain the chickpeas and reserve the chickpeas and their liquid separately.
4. Put the olive oil, garlic, pancetta, peppers and herbs in a large Dutch oven or heavy-bottom pot and set it over medium heat. Cook for several minutes, until the pancetta begins to brown and crisp. Tip in the chickpeas and cook, stirring to coat them with oil and letting them sizzle for a couple of minutes.
5. Measure the reserved cooking liquid. If it is less than a quart (1 L), add more water or a little chicken or fish stock to make 1 quart (1 L). Pour this into the pot with the chickpeas. Cook, stirring occasionally, until the liquid comes to a boil.
6. While the soup is cooking, pour about 4 tablespoons olive oil into a small frying pan and set over medium heat. When the oil is shimmering, gather a handful of the 'sagne and gently scatter them into the pan. Fry briefly, just until crisp and browned. Transfer the fried 'sagne to a paper towel-lined plate.
7. Add the remaining 'sagne to the boiling soup. Cook, stirring occasionally, until the pasta is al dente, about 10 minutes. If the soup seems too thick before the pasta is cooked, add another splash or two of water or broth. The soup should be thick, but still somewhat brothy, when done. Turn off the heat and remove the bay leaf and rosemary branch.
6. Ladle into wide shallow bowls and garnish with the fried 'sagne and a drizzle of oil.