Sal De Riso - Ricotta and Pear Cake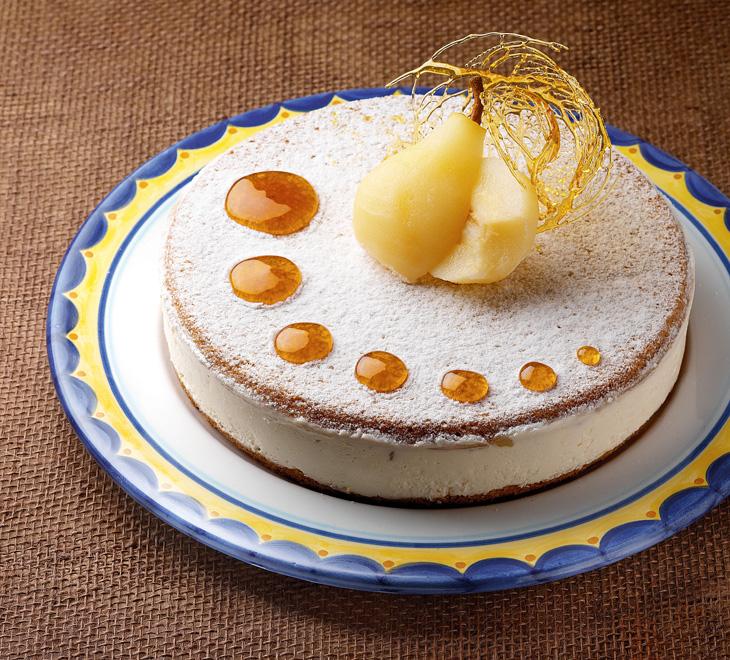 Recipe by Salvatore De Riso
Young, self taught and hugely successful, Master pastry chef Salvatore De Riso is making a name for himself the world over. In the business since 1989, his small bakery-cum-pastry shop in the town of Minori on the Amalfi Coast has flourished and expanded into a business that turns out more than six hundred cakes a day and exports all over Italy, to France, Spain, Australia and Great Britain. To accommodate the boom in business, the cakes are now made in a large workshop twenty minutes from the original seafront shop which remains one of the most popular gastronomic stops on the coast. Despite his being so in demand, Salvatore is still happiest when up to his elbows in flour and sugar. His workshop in Tramonti is a sweet lovers' paradise, with every nook and cranny dedicated to a different aspect of this multi-talented chef's creations: pastry-making, sponge cakes, ice cream, pastry cream, fruits, syrups and sauces, with enormous freezers and pantries packed full of top quality ingredients. 'Quality' is the word that peppers his conversation most frequently, and he attributes much of his success to his refusal to use any ingredients that are not of superlative quality. (Just to give an idea, Salvatore pays more for a delivery of vanilla pods from Madagascar than many of us make in a year.)
Ingredients
eggs
350 g (weight with shell)
caster sugar
For the Hazelnut sponge: 200 g. For the Syrup: 200 g. Ricotta Cream: 225 g. Pear filling: 100 g
plain flour
100 g, sieved
lemon zest
1 lemon, finely grated
pear brandy
For the Syrup: 3 tbsp (eau de vie de poire). Pear filling: 1 1/2 tbsp
ricotta cheese
500 g, preferably half sheep's milk and half cows' milk
whipping cream
125 ml, lightly whipped
williams pears
350 g, ripe
Instructions
To make the two sponge disks: beat the eggs with the sugar until thick and pale. With a spoon, fold in the ground hazelnuts, the flour and the grated lemon zest, and then incorporate the melted butter. Put the mixture into a large piping bag with a 1-2cm nozzle, and in two shallow 26cm diameter cake tins (lined with a disk of baking parchment), pipe the outline for 2 x 26cm circles, then fill in the centre with ever decreasing circles of cake mixture. Bake in an oven preheated to 180°C for approx. 35 minutes. Allow to cool.
Make the ricotta filling by mixing the ricotta and the sugar and then folding in the whipped cream.
To prepare the syrup, boil the water and the sugar together. Add the rum and the pear brandy and boil for a minute or so then take off the heat, but cover to keep warm.
Next, prepare the pear filling. Place the gelatine in a small bowl of water and leave to soak for 10 minutes. In the meantime, peel and dice the pears. Place them in a frying pan with the sugar and cook for five minutes. Then add the pear brandy, the newly prepared syrup and the gelatine, slightly squeezed to remove excess water. Stir until gelatine has completely dissolved. Cool.
To assemble: place one of the sponge disks at the bottom of a 26cm spring form cake tin and spread half the ricotta mixture on top. Next, cover with the pear mixture and finish with a layer of ricotta. Place the other sponge disk on top and press gently. Freeze cake, and move from freezer to fridge approximately an hour before serving. Decorate with a dusting of icing sugar.