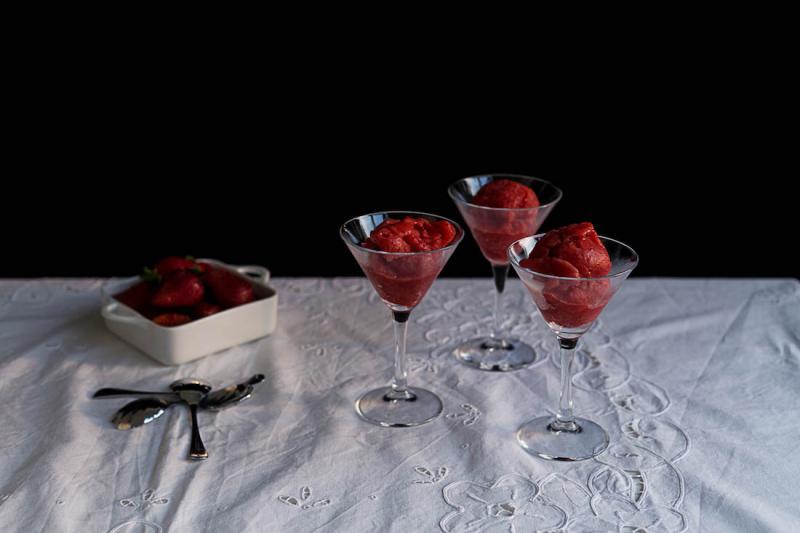 Cooking Time
5-10 minutes to prepare the syrup; 30 minutes for churning the sorbetto
I'll never say no to eating a gelato or sorbetto in the colder months. However, I can't say that I'm ever really motivated to remove my ice-cream maker from the back of the kitchen cupboard when it's strictly coats-on weather. This situation changes completely though come late spring when the mercury starts rising. Strawberries begin gracing the bancarelle or stands at the local market.  I invariably break into a sweat while venturing outside to buy them.  I come back home, market trolley in tow, exhausted from the 30 degree plus heat and keeping my little one amused during our shopping expedition. The jam I'd entertained the idea of making with the plump, red fragole or strawberries no longer thrills me. Hours of stovetop cooking simply isn't viable. Instead, the bowl of that half-forgotten gelatiera (ice cream maker) is suddenly thrust into the freezer and I prepare a syrup with my fresh fruit, some sugar and water. In about 12 hours time, I'll be able to churn the mixture in the chilled ice-cream maker. Easy and the perfect way to keep cool during the sweltering Italian summer upon us.
Sorbetto di fragole  (serves 6-8)
Ingredients
strawberries
400g washed strawberries with leaves removed
Instructions
If using an ice cream maker with a freezer bowl, place bowl in freezer at least 12 hours before you intend to make your strawberry sorbet.
In a saucepan, combine the water and sugar. Bring to boil and allow to simmer until the sugar has dissolved completely. Leave to cool completely.
Blend the strawberries and cooled syrup together in a food processor until obtaining a smooth puree. Cover and refrigerate.
When chilled, assemble your ice cream maker according to the manufacturer's instructions. Add the strawberry-based syrup and churn until frozen. This should take about 30 minutes. For a softer-style sorbetto, serve immediately. For a firmer consistency that lends itself more easily to scoops, transfer to an airtight container and freeze for 1-2 hours before serving.