Spaghetti with Agretti and Pancetta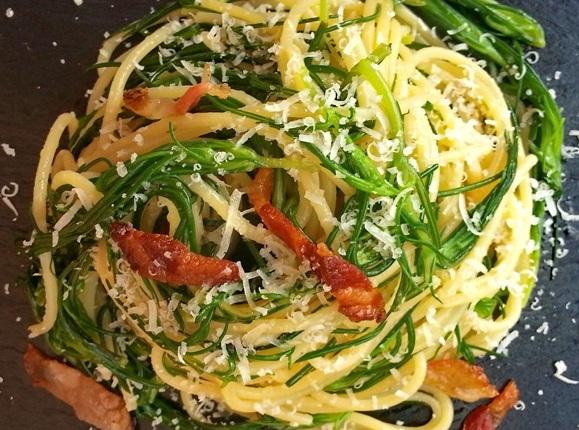 by Amy Gulick, from The Bittersweet Gourmet
It's hard to talk about agretti with precision. What are they, exactly? A marsh grass? A shrub with edible leaves? A succulent? In some parts of the world, agretti are considered an invasive weed, while to others this peculiar annual plant native to the Mediterranean region has become a much sought-after delicacy. And although these days they are a common site in Italian markets come springtime, agretti have not always been associated with cuisine: salsola soda, as the plant is called in the scientific world, was for centuries harvested and burned to make soda ash/crystals.
Agretti look like chives and taste like spinach—when cooked, that is. Raw, they taste like grass. Their slight pungency accounts for the name they are most commonly known by in Italy, as agretto means agro-flavored, i.e. sour, sharp, acrid.  Speaking of names, this plant has rather a lot of them, including lischi, roscano, senape dei monaci, bacicci, riscolo, finocchi di mare, and miniscordi. The quaintest of its many epithets is surely barba di frate, or friar's beard. Then there's barba del negus, which recalls Italy's colonial-era foray in the Horn of Africa (negus was a royal title in Ethiopia and Eritrea, equivalent to king; the negus in these kingdoms invariably wore beards). The categorical head-scratcher, however, comes from Teramo in the Abruzzo region, where agretti are used in the preparation of the springtime specialty le Virtù—a soup of legumes, vegetables, herbs, sometimes pasta and meat—and go by the name misericordia.
Agretti are as versatile as spinach or similar greens. They can be added to a frittata, or served as a side dish dressed with olive oil and lemon juice.  Here's one way to make them with spaghetti:
Ingredients for 4 servings
Ingredients
spaghetti
350 grams (11 ounces circa)
pancetta
150 grams (3/4 cup circa) (smoked pancetta, sliced or diced)
grated Parmesan cheese
80 grams (3/4 cup circa) | Can use Ricotta Salata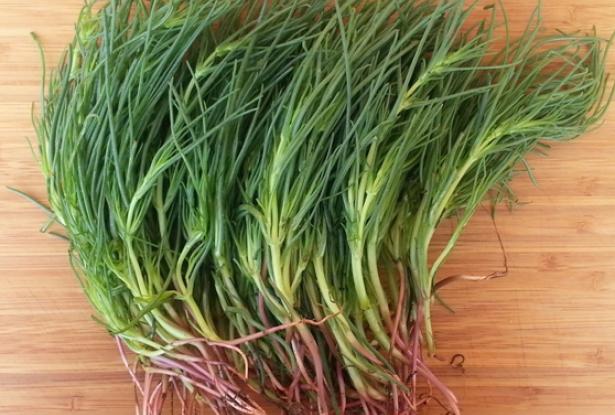 Instructions
Whatever way you plan to use them, I recommend first prepping agretti in this manner: Trim off the reddish, tough roots, which sometimes hide bits of dirt or sand.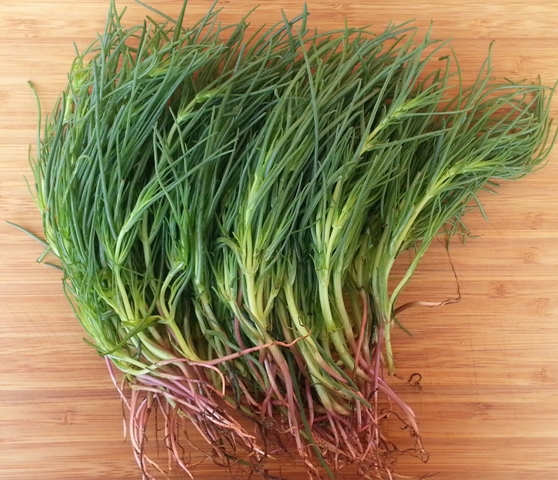 Carefully clean the edible green parts by soaking and turning them a few times in a large bowl of water. Rinse and boil for 5 to 7 minutes. Don't be surprised if a bit of foam forms in the pot as they cook. Just scoop it away. If you are planning to serve the agretti as a side dish, you could cook them longer, up to 15 minutes for very soft agretti, in which case you might transfer them immediately from the pot to a bowl of ice water to preserve their texture and color (optional). Otherwise, no more than 7 minutes in boiling water should suffice for other recipes.  Strain the agretti thoroughly. They're now ready to use how you like. 
For this recipe, bring a tall pot of water to boil and salt. Heat a few tablespoons of olive oil in large pan and cook the pancetta until just turning crisp. Add the cooked agretti and salt and pepper to taste (definitely taste—agretti don't need much salt, and the pancetta is also salty). Combine well and keep warm in the pan. Meanwhile, cook the spaghetti al dente and when ready scoop out the pasta (do not use a colander) and transfer to the pan. Sprinkle in the cheese, add spoonfuls of the warm pasta water if needed, and blend well.
Agretti also make for a yummy pizza topping. Cook them according to the instructions above, and let them dry out before placing them on your pizza dough. Pictured here is a pizza bianca with agretti, pecorino romano, and 'nduja. Check out other recipes on ITALY Magazine here.