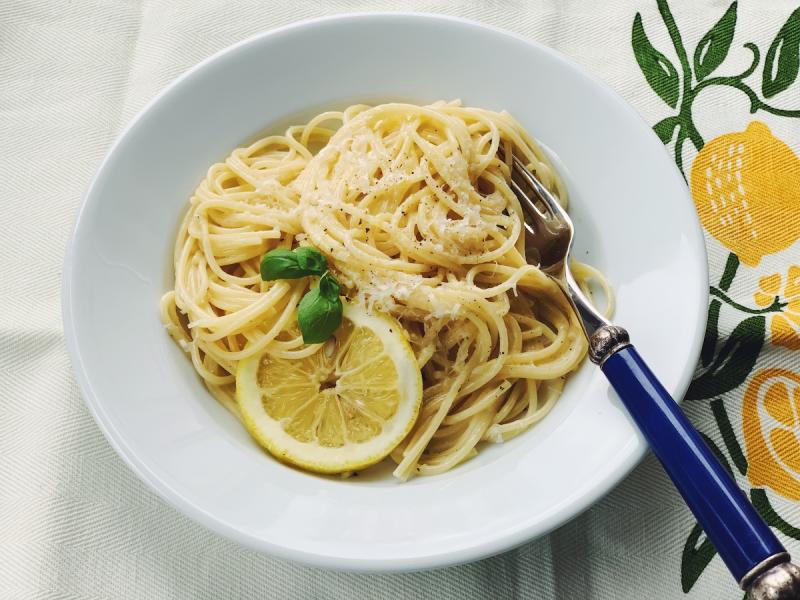 Sorrento and the towns along the Amalfi Coast spill out into the Bay of Naples in a riot of color. This slice of Campania, in southern Italy, famous for its beaches, profusion of flowers, staggering cliffs and treacherously coastal roads, is drop-dead gorgeous.
The food is a true reflection of the region, fresh and zesty ~ think meaty tomatoes, sparkling seafood, tangy buffalo mozzarella and the creamiest gelato. And lemons. Lots of lemons. Sorrento's aromatic and sweet lemons are known the world over. They are large, with a medium-thick bumpy rind and pulp with a balanced sugar content that verges on sweet. They are the lemons that first brought the world Limoncello.
They are also the star ingredient in this classic creamy pasta dish. There are plenty of variations of this recipe; some contain wine, others lots of butter; some, like this one use cream. You can add herbs to your liking or a grinding of black pepper.
If you are not in Italy, you may not have access to Sorrento lemons. You can still make a delicious dish of Spaghetti al Limone. When buying lemons, choose organic lemons that have not been treated with pesticides. Look for those with rough, rather than smooth, skins, as they contain more of the essential oil that give lemons their bright and zesty aroma.
Makes 1 pound, to serve four
Ingredients Sections
1/4 cup (55g) extra-virgin olive oil
Finely grated zest of 1 lemon, plus 2 tablespoons juice
1 cup (250g) heavy cream
Fine salt
1 pound (454g) spaghetti or spaghettini
1/2 cup (50g) freshly grated Parmigiano-Reggiano cheese, plus more for sprinkling
Freshly ground black pepper
1 tablespoon minced fresh flat-leaf parsley
1 tablespoon minced fresh basil
Instructions
Bring a large pot of water to a rolling boil and salt it generously.
While the water is heating, make the sauce. Combine the olive oil and lemon zest in a heavy-bottomed saucepan large enough to hold the cooked pasta. Set the pan on low heat and cook, stirring now and again, until the lemon zest starts to sizzle gently.
Stir in the cream and raise the heat to medium-high. Bring to a boil. Cook, stirring, until the cream is heated through and just beginning to simmer, 3 to 5 minutes. Gradually whisk in the lemon juice, 1 tablespoon at a time. The sauce will thicken slightly. Turn off the heat and cover to keep warm.
Cook the spaghetti according to the package instructions until al dente. Use tongs to transfer the cooked pasta to the saucepan, allowing some of the pasta water to drip into the sauce as well. Toss gently to combine. Add the Parmigiano and a few grindings of pepper. If you are using herbs, add them now and gently toss again. Serve with more parmigiano for sprinkling on top.