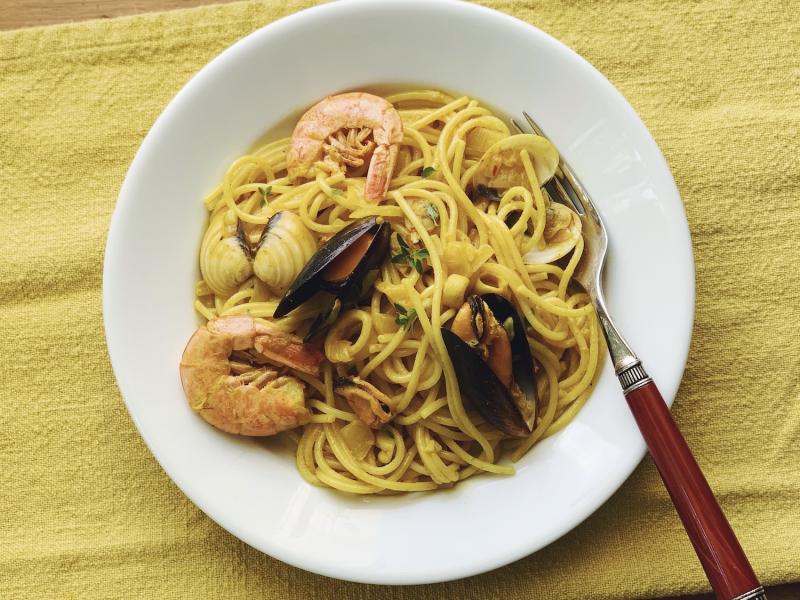 Years ago my family had dinner at a restaurant on the beach in Abruzzo, one of those places where what is served depends on the daily catch. There were many such restaurants up and down the Adriatic coast, where I spent my childhood summers, and they all blurred together for me when I was a kid.
But this one stood out because of the dish that my dad ordered: Spaghetti alla Farouk. Named for the deposed king of Egypt who fled to Italy in 1952, it was a fanciful curry-laced pasta dish that brimmed with fresh seafood—mussels, shrimp, and small crustaceans known as pannocchie or cicale di mare (sea cicadas). My mother, my sister, my dad and I were all bowled over by how good it was. It was like no pasta dish any of us had ever had, even my mother who was born and raised in Abruzzo. We were smitten with the silky, spicy, golden curry sauce.
When we returned home to the U.S. at the end of summer, my mom recreated the dish in her own kitchen. She had not gotten the recipe from the restaurant, so she worked from memory and came up with a good approximation; I still have a copy of her typed up recipe. I tinkered with it over the years, lightening it and playing around with the spice ratios, though I have no idea how close it is to the original dish we enjoyed all those year ago. We had long since forgotten the name of the restaurant, and my mom and I debated about whether it was in Francavilla, as she remembered, or Pescara, as I thought.
My tweaked version was published in my book The Glorious Pasta of Italy in 2011, and it was after the book was released that I heard from a few folks who confirmed that the restaurant was indeed in Francavilla. It's called La Nave, opened in 1950 and, I'm happy to say, still in existence today—though I have yet to make a return visit. I don't know if they still serve Spaghetti alla Farouk at La Nave; I hope so.

 
Ingredients Sections
2 tablespoons extra-virgin olive oil
2 tablespoons butter
1 yellow onion, finely chopped
Large pinch of saffron threads
1 tablespoon curry powder (preferably spicy)
1/2 teaspoon ground ginger
1/4 teaspoon minced lemon thyme
1 fresh bay leaf
1/2 teaspoon fine salt
Freshly ground black pepper
Juice of 1/2 lemon
3/4 cup (180 ml) dry white wine
1 cup (240 ml) heavy cream
12 mussels, well-scrubbed and debearded if necessary, or a mix of mussels and littleneck clams
16 large shrimp, peeled and deveined
8 ounces fresh lobster meat, langoustine tails, scallops, calamari or other seafood of your choice
Instructions
1. Bring a large pot of water to a rolling boil and salt it generously.
2. In a frying pan large enough to hold the seafood, warm the olive oil and butter over medium heat. When the butter is melted and begins to sizzle, stir in the onion. Sauté, stirring often, for about 7 minutes or until the onion is softened but not browned. Stir in the saffron, curry powder, ginger, thyme, bay leaf, salt, and a generous grinding of pepper. Add the lemon juice, raise the heat to medium-high, and pour in the wine. Let the sauce simmer briskly for about 3 minutes, until slightly thickened. Reduce the heat to medium and stir in the cream. Bring the sauce back to a gentle simmer. If the pasta water is not yet boiling, lower the heat to keep the sauce at a bare simmer.
3. Add the spaghetti to the boiling water, stir to separate the noodles, and cook according to the package instructions until very al dente; slightly underdone. Once the pasta is in the water, proceed with finishing the sauce.
4. Add the mussels, shrimp, and lobster/scallops to the sauce, cover, and cook 5 to 8 minutes, or until the mussels open and the seafood is cooked through.
5. Drain the pasta and transfer it to the frying pan with the sauce. Toss to combine thoroughly, and add a splash of pasta water if necessary, to loosen the sauce. Cook for a minute or so to allow the pasta to absorb the sauce. Transfer to a warmed serving bowl or individual bowls and serve, portioning out the seafood along with the sauce.
Makes 4 servings