Spinach and Ricotta Gnudi in Sage-Butter Sauce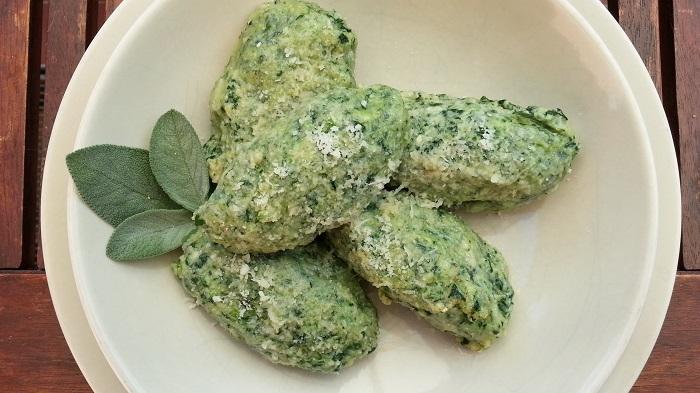 It's hard to believe that the cutely-named primo known as gnudi—gnudi is Tuscan dialect for nudi, or nude/naked—were once the purview of home cooks in a relatively restricted part of the world: the Maremma region of Tuscany, namely. Today, gnudi are a renowned favorite, popular with celebrity chefs, food writers, and bloggers well beyond Italy's borders. Unlike other types of fresh pasta, though, you won't easily find these 'nude' (i.e. sans pasta) ravioli in the market, as they tend to not keep well. Thankfully, gnudi are easy and inexpensive to make, and you can vary them by using cooked chard or another leafy green in place of spinach. Gnudi also go by the names strangolapreti ('priest stranglers') and malvestiti ('poorly dressed'). Don't you just love Italians? 
This recipe makes 10 large gnudi.
Ingredients
spinach
chopped, about 200 grams
grated Parmesan cheese
75 grams
all purpose flour
50 grams (minimum), more for prep
nutmeg
grated, about two pinches
sage leaves
3-4 (for serving)
grated Parmesan cheese
for serving
Instructions
Place the ricotta in a strainer over a bowl for a few hours (or overnight), and keep in the fridge. Boil a large bunch of fresh spinach (leaves only) for a few minutes in salted water, strain very well, and then transfer to a chopping block. Mince with a large knife or a mezzaluna and again press out excess water, this time in a mesh strainer if possible. You could use cheesecloth here if you have it. You want about 1 cup/200 grams of cooked spinach.
Combine all the gnudi ingredients in a bowl. Now test the consistency. You are aiming for a mixture that is firm enough to shape but is not dry. Achieving this will depend on how much liquid was in the ricotta and the cooked spinach. You might have to add more flour to arrive at the right texture. Keep in mind that gnudi made from a too-dry mixture will not do well in the boiling water, while too-moist gnudi will fall apart. Test by rolling a small portion of the mixture in your hand: it should be workable yet sticky.
Set a large pot of water to boil. Lightly dust a plate with flour. Form the gnudi into either round balls or oval shapes (it helps to flour your hands), place them on the plate and gently roll them in the flour. They should be very lightly covered in flour, not caked.
Lower the heat on the water until you have a mild boil, between a simmer and a rolling boil. Cook the gnudi in a few batches for about 4 to 5 minutes. They are done when have popped up to the water's surface and are firm to the touch. Gently scoop them out with a slotted spoon. Do not dump them in a strainer.
Meanwhile, melt a few tablespoons of butter in a pan and swirl in the sage leaves. Transfer the cooked gnudi to this pan as they finish cooking, coat them with the butter sauce, and keep them warm while you proceed with the remaining batches. Top with grated Parmesan and serve.