Spoja lorda - Fool-proof ravioli from Emilia-Romagna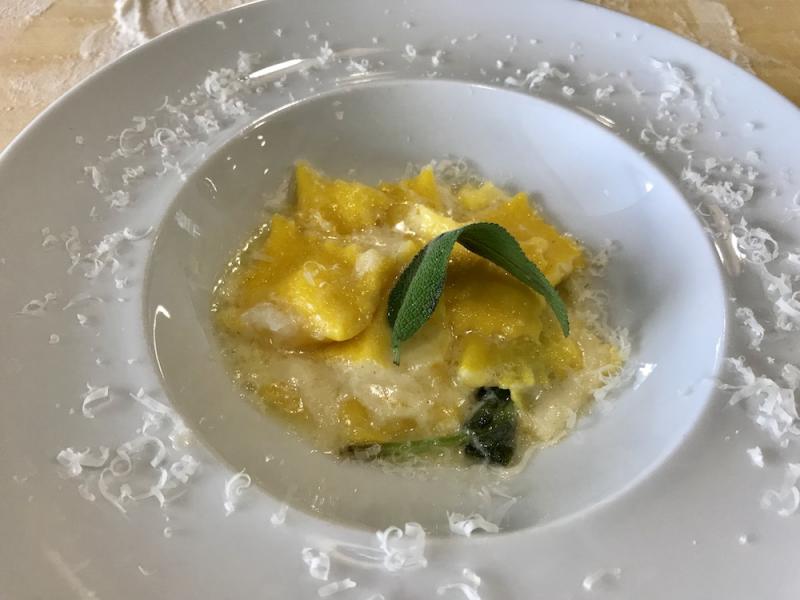 I first spotted this lovely irregularly shaped stuffed pasta in Brisighella, a charming Medieval hilltown in the Romagna part of Emilia-Romagna, famed for its extra-virgin olive oil, which was the first olive oil in the EU to be awarded geographically protected D.O.P. status (Denominazione di Origine Protetta).  The oil, which thanks to the area's microclimate, has an earthy aroma of artichokes, olives and freshly cut grass with a velvety mouthfeel with a smooth, sweet almondy flavor and perfect peppery finish. The oil was amazing, but it was this pasta that held my fascination.  
In the dialect of that area, these odd golden rhomboids are called, spoja lorda, "dirty dough." and are yet another ode to the wonderful regionality of Italian cuisine. This pasta is little know even in other parts of Emilia-Romagna. Born, as so many of Italy's classic dishes, from the practical desire not to waste food, they were invented by using the leftover cheese filling from making hat-shaped cappelletti. In the past, thrifty azdora (housewife in Romagna dialect), would extend the leftover filling with a bit of milk. They'd then spread the mixture on the rolled-out pasta dough, sort of "dirtying" it, earning the dish its whimsical name.
Nowadays it has lost its negative connotations and is often made on purpose, prized for how easy it is to make. The filling varies, depending on individual tastes and what's handy, but usually consists of some combination of fresh cheese, like stracchino, raviggiolo or casatella, and aged cheese like Parmigiano-Reggiano, with perhaps a hint of grated nutmeg added in winter.  The filling is thinly spread on half the dough, folded over, gently pressed close and cut with a curly edge ravioli cutter. Traditionally they are served in broth, with one or two inevitably opening and dirtying the broth a bit, further earning them their moniker.  They can also be boiled and dressed with your favorite sauce or just served topped with a drizzle of lovely Brisighella olive oil!
Serves 4
Ingredients
all purpose flour
About 2 1/4 cups 00 or all-purpose flour
tomato sauce or pesto or broth
for serving
stracchino
Fresh soft cheese such as stracchino, raviggiolo or casatella, 1 cup
Parmigiano-Reggiano
1/3 cup, plus more for serving
nutmeg
Freshly grated, to taste, optional
Instructions
For the filling: In a large bowl gently stir together the ricotta or squacquerone and Parmigiano-Reggiano and nutmeg, if using. Do not over-mix or the cheese becomes runny. Cover and refrigerate until ready to use.
For the dough: Put the flour into a bowl, make a well, beat the eggs into the well, and mix until it forms a dough.  You may need to add a little water. Knead for 5 minutes until elastic.  
Leaving the rest covered with a tea cloth, take 1/4 of the of dough, and either pass it through a pasta maker or use a rolling pin to create a sheet of dough.  Repeat with the remaining dough.
Put the dough on a lightly floured work surface and spread with half the cheese mixture. Fold, press gently and cut across horizontally about ¾ inch apart, then cut vertically. There's no need for the shapes to be even. 
For serving: Cook in plenty of salted boiling water for approximately 4 minutes, until they rise to the surface and are tender. Drain and, serve as a first course, either in broth or topped with your favorite sauce and grated cheese. 
Thanks to Stefano Corvuci, chef founder and owner of CIBO, Culinary Institute of Bologna.