Strudel di Mele di Livia: Livia's Apple Strudel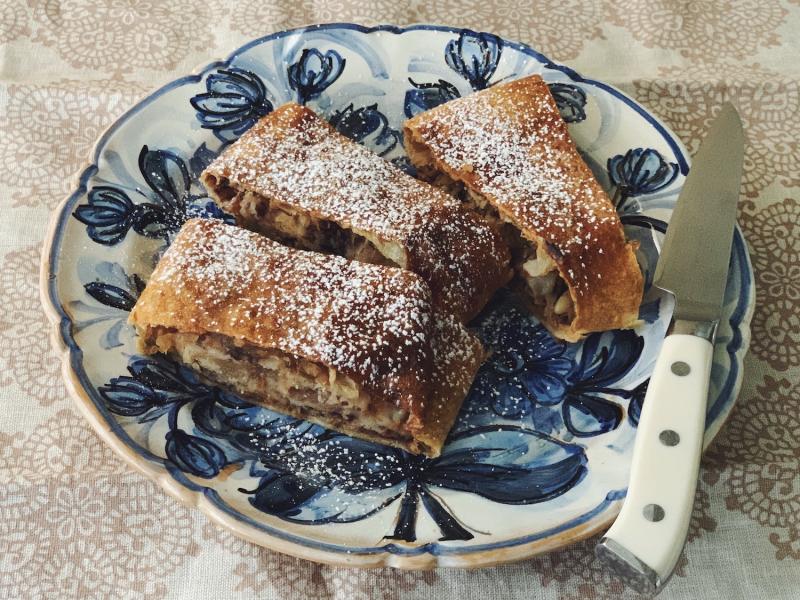 Cooking Time
50 minutes to assemble, plus 65 minutes to bake
Strudel is a northern Italian specialty, and there are many variations throughout Trentino Alto Adige, which borders Austria, and Friuli Venezia Giulia, which borders Croatia and Slovenia. To make it, you must roll out pastry into a paper-thin sheet—thin enough so that you could read through it if you tried. This delicate, flaky pastry encloses a filling of fruit and nuts, or sometimes cream or ricotta. Some versions call for butter in the pastry, but this one, shared by my friend Paola Bacchia, features a pastry made with olive oil. Paola, a popular blogger and cookbook author, is an Australian of Italian descent whose parents were from Friuli Venezia Giulia. The recipe, from her cookbook "Adriatico: Recipes and Stories from Italy's Adriatic Coast," was given to her by her mother, Livia. In addition to the pastry, this strudel differs from others in that the apples for the filling are grated rather than chopped.
As Paola describes it in her book, "This strudel is best eaten cold, several hours after it is made when the pastry has softened and wrapped itself around the silky apple puree. It is even better the next day."
 
Ingredients Sections
For the pastry:
2 teaspoons superfine (caster) sugar
2 cups minus 2 tablespoons (220g) all-purpose flour
2 1/2 tablespoons (30g) mild extra-virgin olive oil
Pinch of fine salt
For the filling:
3 pounds (1.4 kg) tart apples, about 7 large
Scant 4 tablespoons (50g) unsalted butter
3 heaping tablespoons dried breadcrumbs
2 to 3 tablespoons granulated sugar, depending on how tart your apples are
1 scant tablespoon pine nuts
1 scant tablespoon unsweetened cocoa powder
Finely grated zest of 1 lemon
3 tablespoons sultanas (golden raisins), soaked in grappa or brandy for at least 1 hour
To finish:
1 egg yolk
Splash of milk
Superfine (caster) sugar for sprinkling
Instructions
1. Make the pastry: Place the superfine sugar and 1 1/2 cups (180g) of the flour in a bowl and make a well in the center. Pour in the olive oil, salt, and 1/2 cup (125ml) water and stir with a wooden spoon until well combined. Place the remaining flour on your work surface and tip the pastry onto it. Knead for about 10 minutes, or until the dough is smooth but has a stretch to it, like loose pasta dough, adding more flour if it gets too sticky. Reserve any remaining flour for later. Wrap the dough tightly and let it rest at room temperature for 30 minutes.
2. Preheat the oven to 350° F (180° C). Line a large rimmed baking sheet with baking parchment.
3. Make the filling: Peel, core, and coarsely grate the apples into a large bowl (I use the large holes of a box grater). Melt the butter in a small saucepan over low heat, add the breadcrumbs and mix well, then remove from the heat and set aside. You will finish the filling after you've rolled out the dough.
4. Dust your work surface with the remaining flour. Unwrap the pastry and knead for a few minutes, incorporating a bit of the flour from your work surface as you go. Start rolling out the pastry with a rolling pin, flipping it over every minute or so as you stretch it out, until it is about 20 by 16 inches (50 by 40 cm). Carefully lift the sheet of dough onto a large clean kitchen towel. Now do the final stretching by hand, carefully placing your hands under the pastry sheet and gently stretching any sections that are thicker. It should be about 22 by 18 inches (55 by 45 cm). If it is smaller, keep stretching; it should be thin enough for you to read through. When you are ready to assemble the strudel, turn the pastry so the longer edge is closest to you.
5. Lightly squeeze and drain the grated apples (Paola suggests drinking the apple juice that is left behind). Scatter the apple over the pastry, leaving a 1 1/2-inch (4 cm) gap on the two shorter sides, and a 5-inch (12 cm) gap on the edge of the pastry closest to you. The apple filling should go quite close to the pastry edge furthest from you. Scatter the buttery breadcrumbs, sugar, pine nuts, cocoa, and lemon zest evenly over the apple. Drain the sultanas and scatter them evenly on top.
6. Starting from the long edge furthest from you, use the kitchen towel to help roll the strudel towards you into a long sausage enclosing the filling—don't roll it too tightly. It will finish up on the strip of pastry without any filling on it. Fold down the two ends of the sausage and carefully lift it onto the prepared baking sheet, curving it into a horseshoe shape. Whisk together the egg yolk and milk and brush the top of the strudel. Scatter a little superfine sugar on top.
7. Bake for 15 minutes, then reduce the heat to 340° F (170° C) and bake for another 50 to 55 minutes, checking to make sure it isn't browning too quickly (lower the heat slightly if it is). It should be a deep golden color.
8. Let the strudel cool to room temperature before serving. In fact, Paola says it's better the next day. The strudel will keep in an airtight container in the refrigerator for up to 5 days.