A Sweet Roman Tradition: Maritozzi, Cream-Filled Buns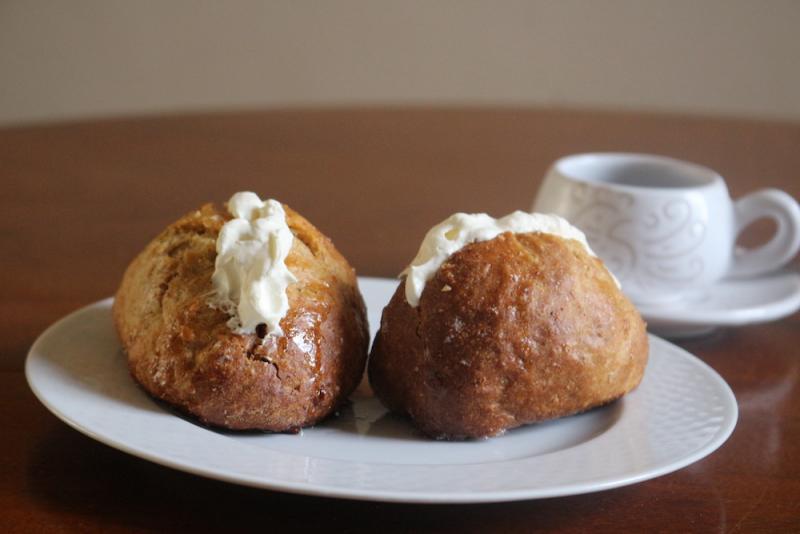 Cooking Time
30 minutes, 8 hours resting, 30 minutes baking
What I love the most of travelling is to find commonalities between different types of dishes. In this case the ingredients and method of making maritozzi, sweet buns typical from Lazio, are the same as for hot cross buns which here in England are typically eaten at Easter. Flour, butter, milk, candied peels, cinnamon, and lemon zest. The English add raisins – just because it ends up in any cake – while Romans stuffed them with cream to make them extra satisfying and good looking.
I had a maritozzo for the first time in Rome during my Summer internship at a little café' near Testaccio with a small cup of dark and intense coffee. The discovery was sublime. It is not just a light bun filled with spices and perfumed with lemon but a mini cake with fluffy sweet whipped cream that melts in your mouth. 
The word maritozzo makes me smile too as it makes me think of marito, husband; and rightly so! Apparently it seems that in Middle Ages the sweet bun was offered by husbands-to-be to their future wives on Valentine's Day and often hid small golden objects or rings. The bun was also a sweet treat people would indulge themselves after a long Lent. These were in the end a more elaborate version of an ever more olden recipe which goes back to ancient Rome which simply mixed flour, eggs, honey, and fat.
As I love baking and sweet things, a maritozzo at breakfast is one of the perfect ways to start the day for me. Being pretty easy to make makes it the more attractive. You can make all the changes you like: add all spices, raisins (in the English way), lemon or orange zest (or both) and or cinnamon. The syrup top might seem a bother but I find it adds a lovely colour and extra stickiness. 
Recipe is for 12 buns 
Ingredients
all purpose flour
500g strong flour
water
350ml lukewarm water
lemon zest
zest of 1 lemon
Instructions
In a large bowl mix the flour with the sugar, spices, zest, and the yeast. Rub the butter into mixture. Separately whisk lightly the egg in the water and add to the flour. Mix well and knead for at least 10 minutes until you obtain a soft and elastic dough. Make a cross on top and leave it to rest for 2 hours with a cloth on top of the bowl. Ideally you can do this the night before thus leaving the dough to raise during the night.
In the morning (or when it has doubled in size) punch the dough and if you have time knead it again for 5 minutes and leave it to rest for a further half an hour. A third time won't harm as it makes the final product lighter and more digestible. If you are using raising, knead the dough on a surface where you have scattered the raisin (a couple of table spoons will do).
Form a series of small ball (the recipe allows to make at least 12 buns) and shape them into oval sticks. Place them on a tray lined with baking sheet – leaving at least 5 cm between them as they will raise further thus expand – and let them rest for a further 10 minutes. Bake in the oven at C180/C200 for 20 minutes.
Make the syrup in the meantime while the buns are in the oven by melting and letting bubble 100g sugar in 100ml of water. Set it aside. Once the buns are cooked let them cool and then glaze them with the syrup. Cut them on the top and filled them with whipped cream – make sure they have really cooled or you will make the mistake I made the first time in my excited flurry of trying one, the cream will melt forming a lake on the bottom. Enjoy with a cup of coffee. Divine!