Tagliatelle with meat ragu, pea puree and black sesame crisps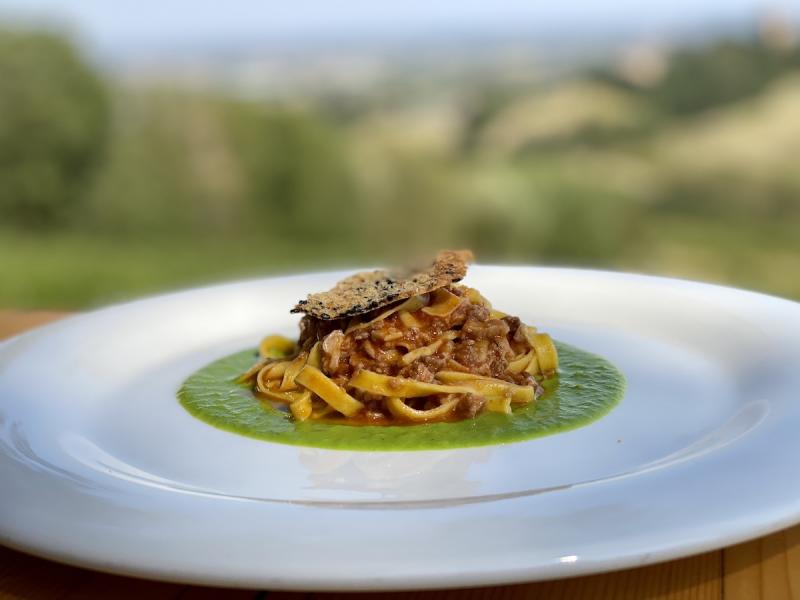 It's hard to imagine an improvement on Emilia-Romagna's classic meat sauce, but Chef Igor Morini adds several inspirations to this traditional dish. Pea puree adds a brilliant splash of color and natural sweetness that perfectly compliment the rich meat sauce and the pretty black sesame crisps are a simple-to-make variation on the usual topping of grated cheese. The crisps are so delicious you'll want to make extra to serve guests with a glass of sparkling wine before dinner. 
Chef Morini is the chef/owner of San Biagio Vecchio a restaurant with truly spectacular views of the rolling hills of nearby Faenza and Forll in the province of Ravenna. Chef Morini is a genius at revisiting other traditional Emilia-Romagna dishes like passatelli, a pasta made of leftover breadcrumbs instead of flour.  
Instead of the centuries-old traditional method of cooking and serving them in broth, 26 years ago he was one of the first chefs to serve them "asciutti" -dry style- served with a sauce instead of in a broth.  In summer he serves them in a creamy cheese sauce topped with special summer truffles called "tartufo scorzone" or burgundy truffles which have a delicate, hazelnut-like, aroma.
Ingredients
For the sauce:
olive oil, 5 tablespoons
garlic cloves 2, very finely minced
celery stalk, 1, very finely minced
carrot, 1 small, very finely minced
fresh rosemary, 1 sprig
ground lean pork 3/4 pound
ground lean beef 3/4 pound
white wine, 1 cup
tomato puree, 1 28 ounce can
salt and pepper, to taste
For the pea puree:
Peas 12 ounces, frozen or shelled
Salt, to taste
For the crisps:
Parmigiano-Reggiano cheese, 1 cup finely grated
black sesame, seeds ¼ cup
For serving:
Salt, to taste
fresh tagliatelle, 1 pound
Instructions
For the sauce: 
In a medium saucepan combine the olive oil with the garlic, celery, carrots and rosemary and cook over medium high heat until soft, about 5 minutes. Add the ground pork and beef, breaking up any large pieces with a wooden spoon, and cook until browned. Add the wine and cook for about 10 minutes to burn off the alcohol. Add the tomato puree, and simmer for another 45 minutes.
Remove the rosemary stem, discard, and season the sauce to taste with salt and pepper.
For the pea puree:
Combine the peas with ½ cup water and salt to taste in a small pot and boil until the peas are tender. Put the pea, plus any remaining water, into a small food processor or pass through a food mill until smooth. Add a little water, if too thin. Put the mixture back into the saucepan and heat before serving.
For the crisps:
Heat a non-stick skillet over medium heat.  Working in batches, sprinkle the cheese in a thin layer in circles about 2 inches in diameter in the skillet and sprinkle with some of the black sesame seeds.  
Cook until light golden brown, about 3 minutes.  With a spatula, carefully slide the cheese round out of the pan and onto a serving plate. 
Repeat the process until you've finished all the cheese.  Reserve the crisps.
To serve: 
Cook the pasta in boiling, salted water until al dente. Drain and toss in the sauce until the sauce is well absorbed.  Divide the warm pea puree on the bottom of each plate, topped with a portion of pasta topped with a crisp.  
Recipe courtesy of San Biagio Vecchio restaurant, Via Salita di Oriolo, 13,Faenza