Taking Pasta Very Seriously: Pizzoccherri della Valtellina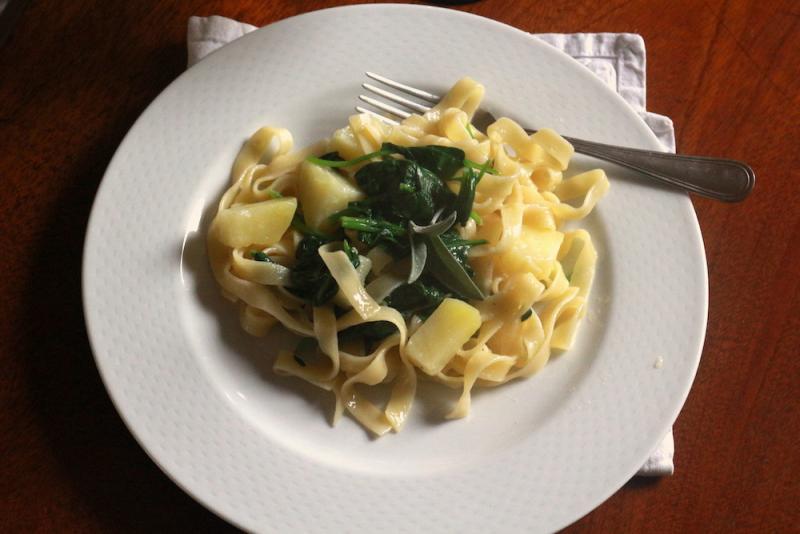 Cooking Time
20 minutes (+30 minutes if making the pasta)
Unless keen skiers or mountaineers, very few tourists would include in their itineraries the mountainous region north of Milan and east of Lake Como: Valtellina. Those who decide to do so though will be rewarded with breathtaking sceneries, challenging walks, and, of course, rich cuisine. Typical dishes include potatoes, cheese, butter, and buckwheat; ingredients that most people would never associate with the stereotypical Italian food of fresh tomatoes, olive oil, and herbs. I remember the first time my husband had Pizzoccheri and witnessing his astonished and incredulous expression – the same one he had when trying aubergines with dark chocolate.
Pizzoccheri go way back in time. In 1548 Ortensio Landi, a humanist and academic, wrote about these delicious buckwheat egg pasta ribbons in his "Catalogue of all things that are edible and of beverages that we use". The dish is so well loved and admired that it has been listed as a traditional product (Prodotto Agroalimentare Tradizionale, PAT) – similar to a denomination of origin – and every Summer in Teglio people gather to celebrate the Pizzocchero during the Festa del Pizzocchero and the Pizzocchero d'Oro. A dish that is certainly taken very seriously.
Pizzoccheri are short pieces of pasta (hence possibly the origin of the word "pit, piz" meaning pezzo), made of a mixture of buckwheat and strong flour, the ratio of which changes the colour and texture of the pasta. Some recipes use eggs while others only add water. In either case the buckwheat flour gives the pasta a consistency that does not require the need of a machine but of a mere rolling pin and cutter wheel. The magic to this dish is done by the combination of sage, garlic, butter, and strong cheese. Potatoes and chard (or spinach) add an extra unusual layer of flavours and textures that the novice to Italian food would find surprising.
If you don't have time to make your pizzoccheri but have a good Italian delicatessen you can easily replace them with some dried bought ones. Likewise, if you cannot find bitto, the typical mountain cheese the recipe demands, you can replace it with fontina or (purist look away or balk) strong mature Cheddar.
Recipe is for 2 people
Ingredients
potatoes
1 medium cut into small cubes
swiss chard (stalks removed) or spinach
150g
Instructions
In a large bowl mix the flours and add 75-100ml of lukewarm water. Mix until you obtain a ball which you can easily shape using a rolling pin giving the thickness of 4mm. Cut with a sharp knife or cutter wheel making long ribbons.
Wash, peel and cut the potatoes into small cubes and cook in salted water for five minutes. Half way through the cooking add the pasta.
While the potatoes and pasta are cooking, melt the butter in a pan adding to it the crushed garlic and the sage leaves.
When the pasta and the potatoes are nearly cooked add the chard or spinach and let it wilt.
Rinse the pasta, potatoes, and spinach and add them to the pan with the butter.
Grate the cheese on top and mix well to let it melt.
Serve hot with a glass of sharp white wine.