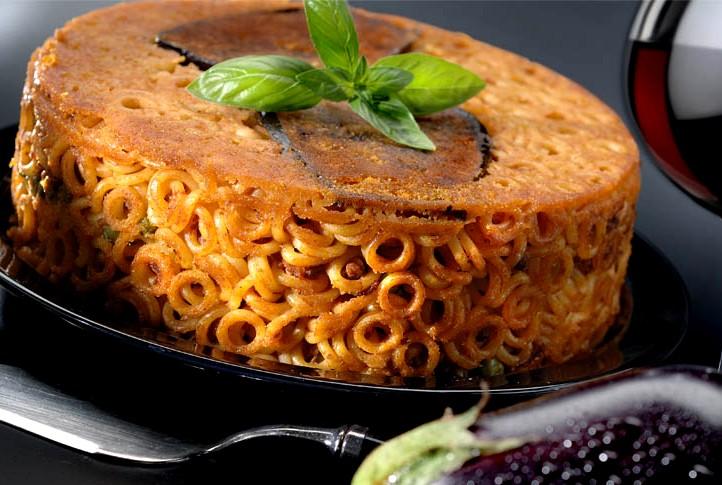 Ingredients
anelletti pasta (or risoni pasta)
250 gr
grated Parmesan cheese
250 gr
diced provolone cheese
150 gr
Instructions
Prepare the Ragù
Heat 4-6 tablespoons of extra virgin olive oil in a heavy-bottomed pot and sautèe the celery, onion and carrot previously diced; sweat over medium heat  until the vegetables are translucent and soft but not browned, about 10 to 15 minutes. Add 600 gr of minced beef over a high heat, stirring to keep the meat from sticking together until browned. Add the wine and when it has evaporated, add salt and pepper, then the tomato paste and bay leaves. Cover with hot water, mix well, put a lid on and let it simmer for 1 to 1 1/2 hours.
Prepare the Polpettine - Mini meatballs
Prepare the meatballs mixing 400 gr minced meat with 100 gr grated cheese, one egg, black pepper, chopped parsley, 1 crushed garlic clove. Once they are ready, sautè them in a pan until they get golden brown and set aside.
Assemble the Pasta
Cook the pasta al dente, drain and mix it with the ragù, add 100 gr grated cheese, the ricotta and the mini meatballs.
Cover the bottom of a baking tray with half the quantity of the pasta, place some provolone cubes on top, cover with more pasta mix, sprinkle with grated cheese and bake in a pre-heated oven at 180°C for 15/20 minutes, or until it is golden brown. Serve a slice of timballo with more ragù on the side and a dollop of ricotta cheese.