Torcetti (or Ciambelline) al Vino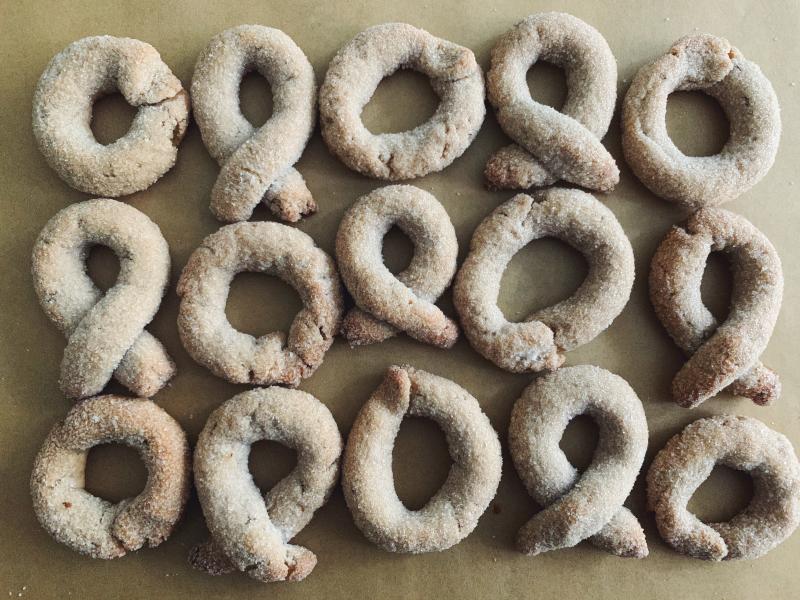 Cooking Time
20 minutes (plus 30-40 minutes assembly time)
Ring-shaped cookies made with olive oil and wine are common throughout central-south Italy. They are cookies that, in spite of their plainness, bring back sweet memories for many of us who hail from this part of the boot. My paternal grandmother, who was from Isernia (Molise), made hers with white wine. She would roll out the shiny dough into thin ropes, twist the ropes together, and form them into small rings. They were dense and not too sweet, finished with an egg glaze.
In Lazio, the region that includes Rome, and Abruzzo, where my mom was from, ciambelline al vino are typically made with red wine rather than white; not surprisingly, in Abruzzo it is customary to use Montepulciano d'Abruzzo, which is what I do. It gives the cookies a fruity undertone that makes them hard to resist. You can keep the cookies plain or you can spice them up a bit with aniseed and roll them in sugar just before baking, which to me makes them infinitely more interesting but still suitable for dipping.
The traditional method for making ciambelline al vino them is "all'occhio," (by eye) which is to say without really measuring. You just combine a "glass" of wine, a "glass" of olive oil, and a "glass" of sugar; and then work in enough flour to achieve a supple dough that can be rolled and shaped. I've added more precise measurements to help you out. Some recipes include a pinch of baking powder in the dough to lighten the cookies and make them crispier. My own preference is to leave it out, as I like the dense, crunchy texture of the more old-fashioned ones and the way they stand up to being dipped in wine or dunked in hot coffee.
When it comes to shaping, you can make classic ciambelline by rolling pieces of dough into ropes and pinching the ends together to seal them. Or, for a visual flourish, try crossing the ends of the rings rather than sealing them together. This shape is known as torcetti—little twists. Whichever way you shape them, know that when you make these cookies, you are treating yourself to a beloved taste of Italian childhood.
Ingredients Sections
1 "glass" (3/4-cup/170g) Montepulciano d'Abruzzo wine
1 "glass" (3/4-cup/170g) extra-virgin olive oil
1 "glass" (3/4-cup/170g) granulated sugar, plus more for coating
About 4 1/2 cups (540g) unbleached all-purpose flour
1/4 teaspoon fine salt
2 teaspoons aniseed
Instructions
1. Pour the wine, oil, and sugar into the bowl of a stand mixer fitted with the paddle attachment. Mix on low to help dissolve the sugar. Add in 3/4 of the flour, the salt, and the aniseed, and mix on low until the flour is absorbed. If the mixture is sticky, sprinkle in more flour until the dough comes together. It should be dense and shiny.
2. Turn the dough out onto a clean, lightly floured work surface and knead it briefly. It will be somewhat rough-textured. Form it into a ball, cover it with a bowl, and let it rest for 30 minutes.
3. Heat the oven to 375°F/190°C. Line two rimmed baking sheets with parchment.
4. Fill a small bowl with sugar. Cut off a golf ball-sized piece of dough and roll it into a thin(ish) rope, about 4 inches in length and slightly thinner than your pinkie. Note that this oil-rich dough tends to break apart as you roll. Not to worry; simply press it together and re-roll. Bring the ends of the rope together and pinch to form a "ciambella" or cross one end over the other to make a "torcetto." Dip the top of the cookie into the bowl of sugar to coat the surface (leave the underside uncoated) and place the cookie on one of the prepared baking sheets. Continue shaping and dipping cookies. You will fill at least two trays.
5. Bake the cookies, one sheet at a time, for 20 to 22 minutes, until they are golden and browned along the edges. Let them cool for a few minutes on the baking sheet and then transfer them to a rack to cool completely. You should end up with 40 to 50 cookies. Store them in a tin, where they will last for at least a week, unless you eat them sooner (you will).